Product Description
2X Forget-Me-Not™ Universal Probe Master Mix is a high-performance product for fluorescent probe-based PCR applications, including quantitation and SNP genotyping. This kit is suitable for all fluorescent probe-based technologies, including hydrolysis probes (such as TaqMan® and dual-labeled BHQ® probes) and displacement probes (like Molecular Beacons). Forget-Me-Not™ Universal Probe Master Mix shows excellent concordance of results in singleplex and multiplex reactions, has broad instrument compatibility, and can be used in both standard and fast protocols.
The master mix contains
Cheetah™ HotStart Taq DNA Polymerase
and dNTPs in a buffer optimized for high qPCR sensitivity and multiplex reactions. Only primers, probe and template need to be added. The kit comes with a separate tube of ROX™ dye, and instructions for PCR instruments requiring high or low ROX concentrations.  F
orget-Me-Not™ Universal Probe Master Mix
without ROX can also be purchased.
Cheetah™ HotStart Taq DNA Polymerase is Biotium's proprietary chemically modified hot-start DNA Polymerase. Cheetah™ Taq is fully activated in 2 minutes with high activity recovery, making it particularly suitable for fast PCR. Cheetah™ Taq is completely inactive at room temperature.
Forget-Me-Not™ Tracking Buffer. The 40X Forget-Me-Not™ Tracking Buffer contains an inert blue dye. You have the choice of adding Tacking Buffer to the master mix, to the DNA template, or not to use the tracking buffer in your reactions. Addition of Tracking Buffer to your master mix allows you to easily distinguish wells containing reaction mix from empty wells. On the other hand, adding Tracking Buffer to your DNA template samples allows you to track which reactions have had template added while you set up your PCR reactions.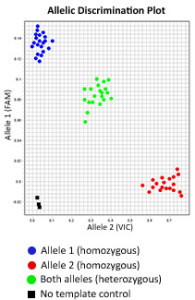 SNP genotyping using dual-labeled BHQ1Plus® hydrolysis probes. DNA samples were genotyped in reactions containing 450 nM of each primer and 100 nM of each probe (Allele 1 probe-FAM/ BHQ®-1, Allele 2 probe- CAL Fluor® Orange 560/BHQ®-1) on a QuantStudio® 5 system (ThermoFisher Scientific).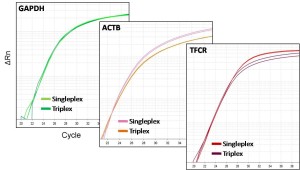 Singleplex and triplex PCR of GAPDH, ACTB and TFCR from human genomic DNA. PCR detection of GAPDH, ACTB or TFCR in singleplex reactions, or together in triplex reactions. Reactions contained 20 ng of human genomic DNA, 400 nM of each primer, and 200 nM of each hydrolysis probe (GAPDH-FAM/BHQ®-1, ACTB-CAL Fluor® Orange 560/BHQ®-1, TFCR-CAL Fluor Red 610/ BHQ®-2).