Speed, Power, and More! Cheetah™ Taq, a Chemically-modified Hot-start DNA Polymerase for PCR
FEATURES
Fast activation:
Takes less than 2 minutes to activate, much faster than AmpliTaq™ Gold and HotStar™ Taq.
Excellent activity recovery:
Better recoveries of both 5′-3′-polymerase and 5′-exonuclease activities following activation than AmpliTaq Gold.
Improved stability:
Better stability than AmpliTaq Gold during storage.
pH compatibility:
Can be activated at alkaline pH (8.5-9) for optimal Taq activity and more specific target amplification.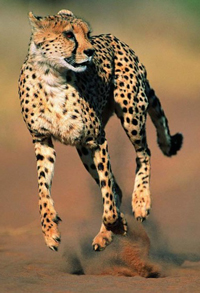 ---
View products associated with this technology…
Cheetah™ Taq is a chemically modified hot-start Taq DNA polymerase useful for preventing or minimizing nonspecific DNA amplification in PCR. Modified using a novel modifying reagent, Cheetah™ Taq represents a major improvement over AmpliTaq Gold and other similar chemically-modified hot-start enzymes by having a faster activation time, better shelf-life and alkaline activation condition optimal for both Taq activity and specific amplification. Under standard hot-start conditions (i.e., 94 °C in pH 8-9 Tris), Cheetah Taq regains both the 5′-3′ polymerase and 5′-exonuclease activities within two minutes.
Cheetah Taq is also superior to antibody-based hot-start DNA polymerases due to its complete supression of enzyme activity at room temperature, near full recovery of enzyme activity following activation and lack of animal DNA contaminants. In addition, Cheetah™ Taq is also significantly more economical to manufacture than antibody-based hot-start enzymes.
Cheetah™ Taq is a patent-pending invention completely independent of AmpliTaq™ Gold and related technologies. We welcome you to explore licensing opportunities from us.