Cell penetrating ligands are often linked to nanoparticles (NPs) to stimulate cellular internalization by endocytic processes. On their own, these ligands are known to promote uptake of bystander cargo through a specialized endocytic pathway known as micropinocytosis. However, it is not clear if functionalized NPs linked to such ligands also influence the cellular uptake of bystander cargo.
In a recent publication of Nature Communications, Wei et al. investigated the bystander activity of NPs linked to TAT, a widely-used cell penetrating peptide. These functionalized NPs (T-NPs) and non-functionalized bystander NPs were conjugated to fluorescent CF® dyes to allow visualization of NP trafficking. The effect of T-NPs on uptake of bystander cargo was studied in CHO and H1975 cells by co-incubating with non-functionalized NPs and other labeled fluid-phase markers (ie. BSA and dextran). Internalization of T-NPs and bystander cargo was measured by flow cytometry and fluorescence microscopy. Results show T-NPs strongly promote the uptake of bystander NPs, but not fluid-phase markers. Meanwhile, monomeric TAT peptide enhanced bystander uptake of fluid-phase markers, but only certain NP types. This suggests a preferential NP bystander uptake in the presence of functionalized T-NPs. Moreover, the authors confirm the TAT interaction with cell surface receptors is necessary for T-NP associated bystander uptake. Lastly, the authors report T-NP internalization and bystander uptake is strongly stimulated by extracellular cysteine, suggesting a role for the cysteine transport machinery in this specialized endocytic pathway.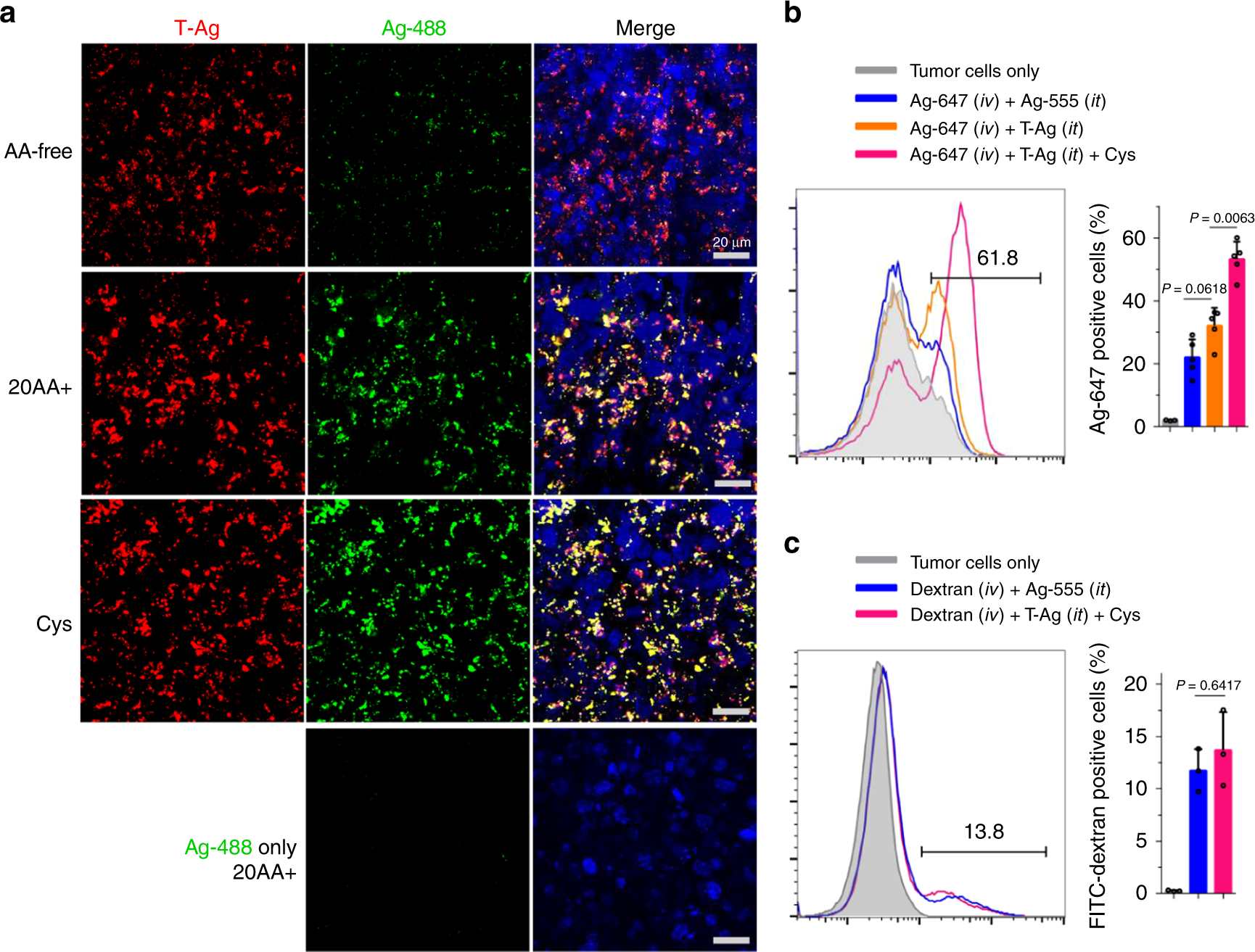 Learn more about CF® Dyes, Biotium's next generation of fluorescent probes with superior brightness and photostability, as well as our CF® dye antibody labeling kits, and our wide-variety of CF® dye bioconjugates.
Full Citation
Wei, Y., Tang, T. & Pang, H.-B. Cellular internalization of bystander nanomaterial induced by TAT-nanoparticles and regulated by extracellular cysteine. Nat. Commun. 10, 3646 (2019).