Our industry leading dyes demonstrate superior brightness, photostability, and solubility
Largest selection of over 40 fluorophores
Take full advantage of spectral flow multiplexing with fluorophores available from blue to near-IR
Labeled antibodies & other conjugates
Over 1000 monoclonal antibodies & highly cross-adsorbed secondary antibodies conjugated to CF® Dyes
Rapid & Versatile Antibody Labeling
Mix-n-Stain™ kits are easy-to-use with minimal hands-on time & no purification required
Bright & fixable viability staining kits
Live-or-Dye™ viability stains are extremely stable dead cell stains, available in 12 colors
Flow Cytometry Accessories
Buffers, fixation & permeabilization solutions, & more
Introduction
Flow cytometry is a prolific and powerful analytical tool used for biological research and the clinic. At its core, flow cytometry enables researchers to obtain highly specific information on individual cells within a sample. Recent advancements in this field have led to the development of spectral flow cytometry, a rapidly growing technology with significantly enhanced multiplexing capabilities over conventional flow cytometry. Several companies have capitalized on spectral flow with the release of the Sony ID7000™ and the well-known Cytek® Aurora. Where conventional flow cytometer instruments can detect panels with more than a dozen fluorophores, these new spectral flow cytometers are capable of accommodating multiparametric panels with upwards of 30 different fluorophores.
How Does Spectral Flow Cytometry Work?
Spectral flow cytometry shares much of the same hardware associated with conventional flow cytometry. Both systems employ standard fluidic and laser technologies that enable cell-by-cell spectral analysis. For both spectral and conventional flow cytometry methods, the process begins by delivering a sample stream through a flow chamber where cells move in a single file at a constant velocity, a process known as hydrodynamic focusing. This allows uniform and efficient excitation by a set of monochromatic lasers. Emitted photons are then detected and analyzed by a combination of optics and software to identify unique spectral emissions from fluorophore labeled biomolecules.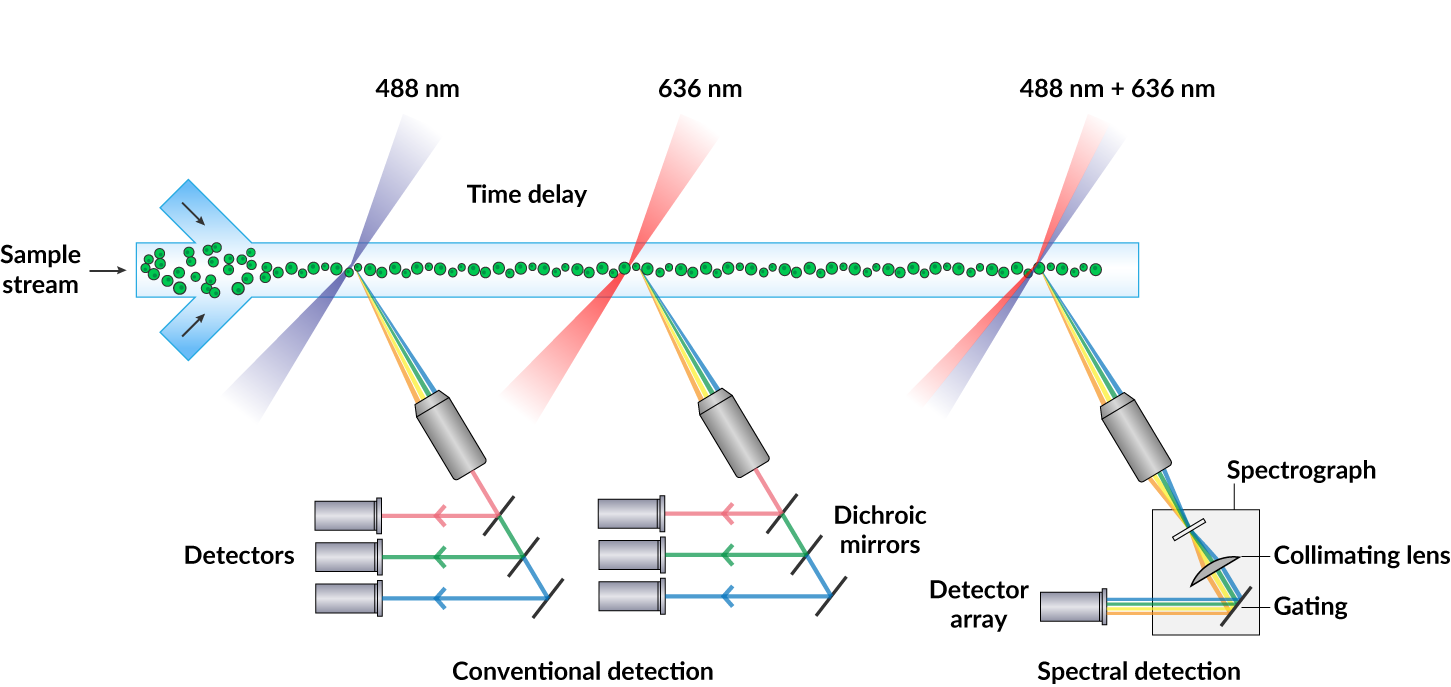 | | Conventional Flow Cytometry | Spectral Flow Cytometry |
| --- | --- | --- |
| Optics | Dichroic mirrors/band pass filters | Dispersive optics: prisms or spectrographs |
| Multiplexing | Limited by number of detectors and filters as well as emission overlap of fluorophores | Improved spectral resolution allows for more fluorophore probes per experiment |
| Spectral Resolution | Acquires only a narrow emission bandwidth from a single-laser excitation | Acquires the entire fluorophore spectral profile for each laser |
| Fluorophore Separation | Compensation | Spectral unmixing |
Take Full Advantage of Spectral Flow with CF® Dyes
Biotium's CF® Dyes allows you to maximize the multiplexing advantages of spectral flow by offering the largest selection of spectrally unique fluorophores, many of which are licensed by Cytek® Biosciences for use in spectral flow panels. See Figure 4 below for a similarity matrix of CF® Dyes that have been validated in spectral flow by Cytek®. In addition, CF® Dyes demonstrate superior brightness, solubility, and exceptional signal-to-noise compared to other fluorescent probes.
Explore High-Performance CF® Dye Antibodies & Bioconjugates
CF® Dye Similarity Index