AccuBlue™, AccuClear™ and AccuGreen™ dsDNA quantitation assays allow precise quantitation of purified dsDNA samples across a wide range of concentrations and a variety of fluorescence detection instruments. Unlike absorbance-based nucleic acid quantitation, fluorescent DNA binding dyes are highly sensitive and selective for double-stranded DNA and provide a more accurate DNA concentration in the presence of contaminating RNA and other common contaminants including free nucleotides, protein, detergents and salts. Biotium offers five dsDNA quantitiation kits for different instruments and sample concentration ranges. To choose the DNA Quantitation Assay that is right for you, download our DNA Quantitation Kit Flyer, or view the detailed product highlights on this page.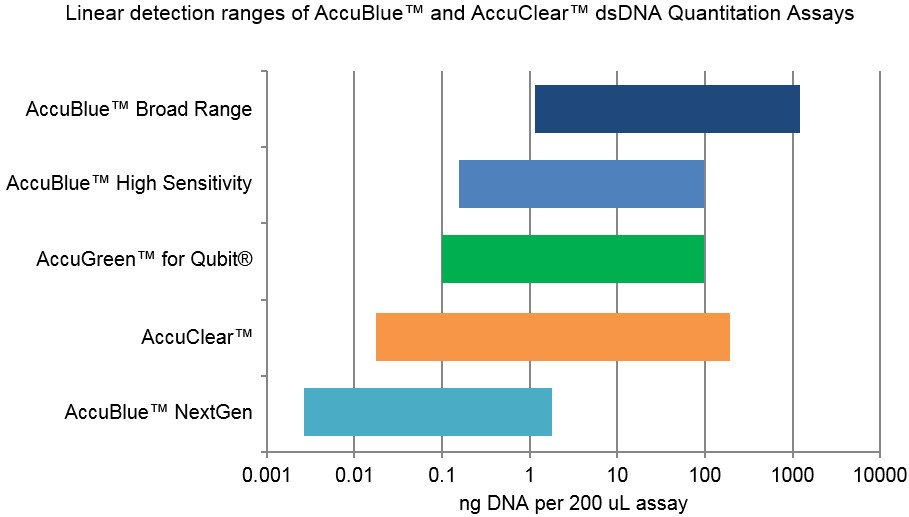 | dsDNA Quantitation Kit | Linear detection range (dsDNA in assay) | Ex/Em (nm) | Features |
| --- | --- | --- | --- |
| AccuBlue™ NextGen | 1 pg*-3 ng | 468/507 | Quantitation of extremely precious or dilute samples. Optimal for sensitive applications such as NGS or digital PCR. *Limit of detection in the range of 1 pg to 5 pg depending on instrument sensitivity. |
| AccuClear™ Ultra High Sensitivity | 30 pg-250 ng | 468/507 | This kit offers great sensitivity and the widest linear range. |
| AccuBlue™ High Sensitivity | 0.2-100 ng | 485/530 | Quantitation of dsDNA from 0.2-100 ng, with a safer, membrane impermeable DNA dye. |
| AccuGreen™ High Sensitivity | 0.1-100 ng | 502/523 | Quantitation of DNA using the Qubit® fluorometer from Thermo Fisher. |
| AccuBlue™ Broad Range | 2-2000 ng | 350/460 | For quantitation of high concentration DNA in a broad linear range with blue fluorescence. Assay can be extended to 4000 ng with minor loss of linearity. |
PRODUCT HIGHLIGHTS
Linear range: 1-3000 pg dsDNA
Green fluorescence (Ex/Em: 460/507 nm)
Unrivaled sensitivity for ultra low amounts of DNA
Assay stability: prepared working solution can be stored up to 6 months in the fridge for added convenience.
Novel green fluorescent dye is a perfect match for blue LED excitation sources
Ideal for fluorescence microplate reader
AccuBlue NextGen dsDNA Quantitation Kit
AccuBlue and AccuClear are covered by granted and pending US and international patents. AccuBlue, AccuClear and AccuGreen are trademarks of Biotium, Inc.; PicoGreen, Qubit and Quant-iT and NanoDrop are trademarks of Thermo Scientific.
Faq
DNA Quantitation Kits
AccuGreen™ kits are designed for use with the Qubit® fluorometer. All of the other kits are designed for use with 96-well fluorescence plate readers. Our quantitation kits vary in the concentration ranges of dsDNA that they are able to detect. Some of the kits also have different fluorescence excitation/emission. Please see the AccuBlue, AccuClear and AccuGreen Technology Highlights to choose the kit that best fits your application.
← FAQs
The AccuClear™ and AccuBlue™ DNA Quantitation kits are designed for use with fluorescence 96-well plate readers. AccuClear™, AccuBlue™ NextGen and AccuBlue™ High Sensitivity kits require an instrument equipped to read green fluorescence emission (similar to FITC). AccuBlue™ Broad Range requires an instrument equipped to read blue fluorescence emission (Ex/Em 350/460 nm).
These assays also can be used with fluorometers such as the Qubit® (Thermo Scientific) and QuantiFluor™-P (Promega). However, due to different linear ranges of the assays, not all of these assays are compatible with the pre-programmed DNA quantitation programs on these instruments. For users who own a Qubit® fluorometer, we recommend using our AccuGreen™ kit, which is designed for use on that instrument.
The AccuGreen™ High Sensitivity DNA Quantitation kit is designed for use on the Qubit® fluorometer. It can be used in the preprogrammed Qubit® dsDNA High Sensitivity assay, and is a direct replacement for the Qubit® dsDNA HS Assay kit.
← FAQs