Fluorescent staining kits for bright, clean staining of EVs and exosomes
ExoBrite™ EV Membrane Stains have been validated for super-resolution dSTORM imaging of isolated EVs
Antibodies that have been validated for staining of exosomes
What Are Extracellular Vesicles?
Extracellular vesicles (EVs) are small, membrane-bound particles secreted from cells and thought to function as cellular messengers, carrying cargo from one cell to another. There are several subtypes of EVs that vary in function, cargo, and size, which can range from ~30-1000 nm in diameter. The smallest type of EV is the exosome, which is ~30-150 nm in size. EVs originate within a cellular compartment called the multivesicular body (MVB), which is itself derived from invagination of endosomes. The vesicles are released when the MVB fuses with the plasma membrane and releases its cargo.
In biomedical research, exosomes and their cargo are used as diagnostic biomarkers for cancer and other diseases. EVs and exosomes can be isolated from blood or other biological fluids using techniques such as ultracentrifugation, PEG precipitation, and immuno-capture beads.
Exosome membranes harbor transmembrane proteins originating from the plasma membrane of the cell of origin, which often includes proteins of the tetraspanin family (such as CD9, CD63, and CD81). Inside, exosomes contain cytoplasmic components such as proteins and RNA. Exosome components can be analyzed using methods like RNAseq, western blotting, and flow cytometry. For characterization by flow cytometry, researchers can use dyes that stain exosome components like membranes and nucleic acids, and antibodies that bind to tetraspanins or other proteins of interest.
Read our blog article to to learn more about exosomes and their growing potential in both medicine and research.
Exosome analysis: Small targets, big challenge
The small size of exosomes makes them challenging to handle and analyze. In flow cytometry, exosomes can be difficult to distinguish from cell debris and other small particles, with their size at or below the limits of some flow cytometers' sensitivity. Staining with certain dyes or antibodies can help to distinguish exosomes from other particles. However, it is important to use stains that won't form aggregates, since these small particles could themselves be confused for stained exosomes. Such aggregates have been a frustration for exosome researchers.
The method used to enrich or purify EVs prior to analysis is also an important factor. Samples enriched with a simple PEG precipitation step often contain a large amount of non-EV lipid particles, which may also bind to membrane dyes. These impurities can be reduced by using other EV purification methods, such as size exclusion chromatography (SEC) or immunoprecipitation. Magnetic beads bound to anti-tetraspanin antibodies can give pure exosome clusters. However, these beads may bind non-specifically with a lot of hydrophobic dyes, such as membrane dyes.
We have screened a large collection of our antibodies and dyes to look for those that both stain exosomes well, and show minimal to no aggregation (ie, signal in the absence of exosomes). Continue reading below to explore our validated EV antibodies and dyes.
EXOBRITE™ EV MEMBRANE STAINING KITS
Exosome staining you can trust
ExoBrite™ EV Membrane Staining Kits were designed to overcome some of the challenges of exosome detection. ExoBrite™ stains bind to molecules in the exosome membrane providing bright, specific staining of isolated EVs by flow cytometry. A key advantage of ExoBrite™ stains is that, unlike many other dyes, they show little to no background aggregates of a similar size as exosomes or EVs. Also, unlike most membrane dyes, ExoBrite™ stains do not bind non-specifically to polystyrene beads, meaning that they can be used to stain bead-bound exosomes.
ExoBrite™ EV Membrane Stains have been validated in flow cytometry for their ability to stain exosomes and EVs derived from several different cultured cell lines, and isolated by several different methods, including size exclusion chromatography (SEC), polyethylene glycol (PEG) precipitation, and magnetic bead immunoprecipitation (IP).
ExoBrite™ EV Membrane Stain advantages:
Designed for exosome detection by flow cytometry
Bright fluorescence and low background for excellent signal-to-noise
Compatible with antibody co-staining (unlike CellBrite® Fix or MemBrite® Fix)
Stain purified or bead-bound exosomes
Available in 4 colors for flexible experimental design
Less background and better coverage over other exosome/EV stains

Purified exosomes stained with ExoBrite™ EV membrane stains
Bead-bound EVs stained with ExoBrite™ EV membrane stains
ExoBrite™ EV membrane stain/antibody co-staining
One advantage of ExoBrite™ EV Membrane Stains is the ability to co-stain with antibodies, for exosome protein profiling studies. Co-staining can be performed concurrently or sequentially, and can be performed on purified or bead-bound exosomes. ExoBrite™ EV Membrane Stains are general exosome stains that should label all exosomes in a sample,* allowing antibodies to be used to quantify how many exosomes express the protein of interest. For example, in the exosomes that we tested (MCF-7-derived), the tetraspanin CD9 is highly and ubiquitously expressed.** We have found that when we performed co-staining with ExoBrite™ 560/585 EV Membrane Stain and CD9(H19a)-CF®488A, they show near-complete overlap of their positive populations (see Figure, right).
Tips for optimal ExoBrite™/antibody co-staining of purified exosomes:
Stain purified exosomes in 1 mL with 10X ExoBrite™ (ExoBrite™ staining is somewhat reduced during simultaneous co-staining so 1X is not recommended)
Try starting with at least 0.1 ug/mL antibody
*In the exosomes that we have tested, ExoBrite™ EV Membrane Stains label all exosomes. There may be exosome types with different staining levels.
**Expression levels of tetraspanin proteins (CD9, CD61, & CD81) and other proteins differ greatly between cell types and exosome sources.
CellMask is a trademark of Thermo Fisher Scientific; ExoFlow-ONE and ExoGlow are trademarks of System Biosciences.
SUPER-RESOLUTION IMAGING OF EXOSOMES
See beyond the diffraction limit with ExoBrite™ EV stains
Characterizing exosomes and EVs by imaging remains a challenge due to their small size and the resolution limit of light microscopy. Super-resolution microscopy techniques such as direct stochastic optical reconstruction microscopy (dSTORM) push beyond the diffraction limit of traditional light microscopy, allowing single-molecule resolution of subcellular structures such as EVs. ExoBrite™ EV Membrane Stains have been validated for dSTORM by the ONI Nanoimager, allowing the study of fine morphological details and co-staining with EV biomarkers such as tetraspanin proteins CD9, CD63, and CD81.
ExoBrite™ 560/585 and 650/665 EV Membrane Stains are validated for dSTORM imaging of EVs
Understand more about vesicle morphology and structure
Allows antibody co-staining and localization studies with EV biomarkers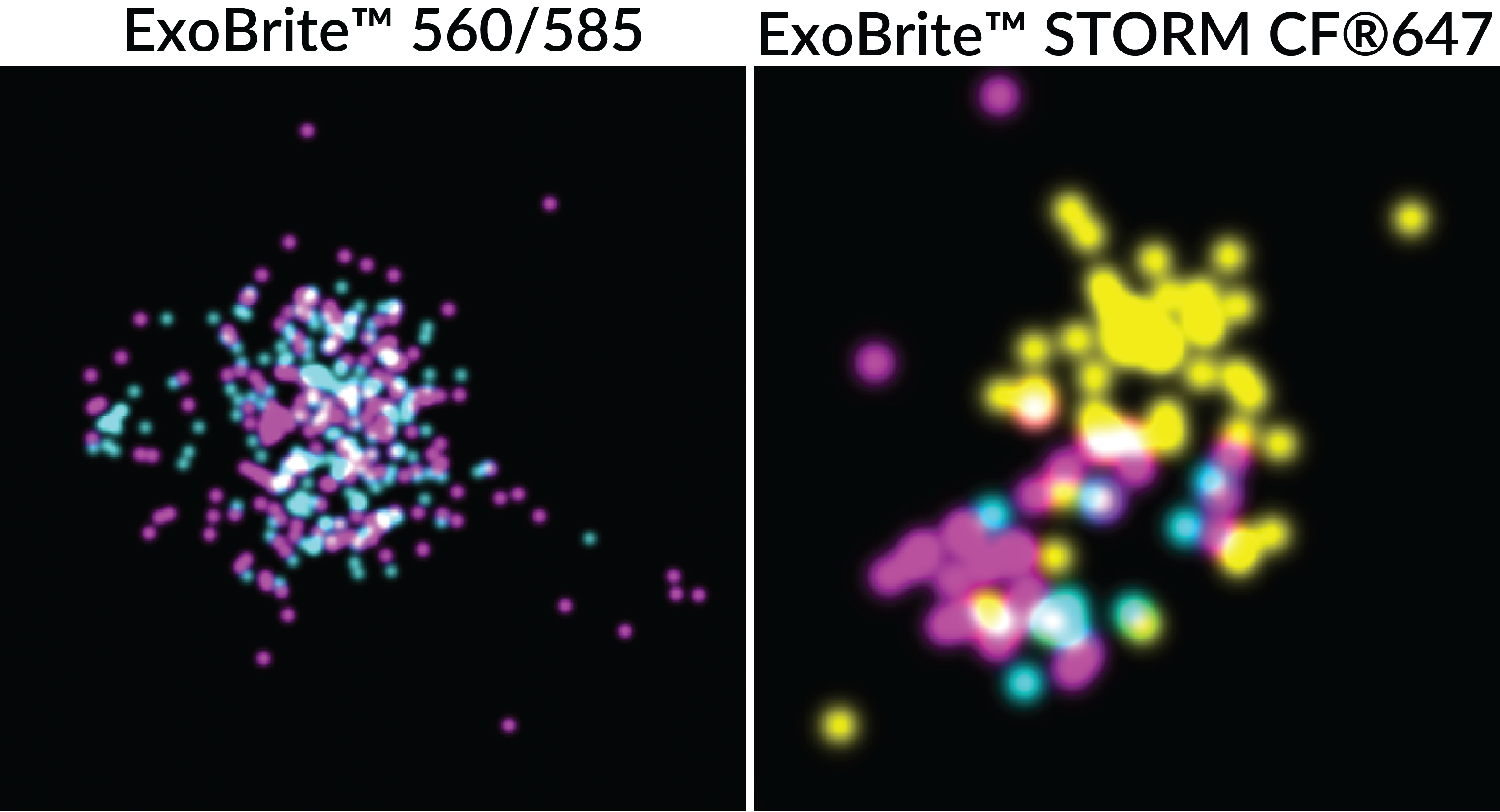 VALIDATED EXOSOME ANTIBODIES
The most common proteins used as exosome markers are CD9, CD63, and CD81, members of the tetraspanin family. Tetraspanins are plasma membrane proteins with many proposed functions, including activation and sorting of other membrane proteins. They are also thought to play a role in the targeting of proteins to Multivesicular Bodies (MVBs) and exosomes. These tetraspanins are broadly expressed on many cell types and can therefore be detected on many types of exosomes, but their expression levels do vary depending on the cell type of origin.
Other proteins that are often detected in EVs include Heat Shock proteins (i.e., HSP70), membrane trafficking proteins, MVB-biogenesis proteins (ie, Alix, TSG101), and cell adhesion molecules (i.e., Ep-CAM, ICAM-1). Ep-CAM is mainly expressed in epithelial cells, including the cell line MCF-7.
Biotium offers several different antibody clones against exosome marker proteins, each available in a wide variety of conjugate choices such as bright CF® Dyes and biotin. The antibodies listed below have been validated specifically for exosome detection by flow cytometry, using enriched MCF-7-derived EVs bound to CD63-specific magnetic beads (Thermo Fisher Scientific).
Exosome antibodies validated in flow
Antibody
Clone
Validated in flow with:
Staining level:
Notes:
CD9 (human)
CD9/1619
• Bead-bound MCF-7-derived EVs1
• SEC-purified MCF-7-derived exosomes2
Strong staining
Recommended clone: bright staining
CD9 (human)
CD9/2343
• Bead-bound MCF-7-derived EVs1
• SEC-purified MCF-7-derived exosomes2
Strong staining
Recommended clone: bright staining
CD63 (human, mouse)
MX-49.129.5
• Bead-bound MCF-7-derived EVs1
See Notes
Labels bead-bound EVS but not purified exosomes
CD63 (human)
LAMP3/968
• Bead-bound MCF-7-derived EVs1
See Notes
Labels bead-bound EVS but not purified exosomes
CD81 (human, mouse, rat)
1.3.3.22
• Bead-bound MCF-7-derived EVs1
• SEC-purified MCF-7-derived exosomes2
Strong staining
Recommended clone: bright staining
CD81 (human, mouse, rat)
rC81/3442
• Bead-bound MCF-7-derived EVs1
• SEC-purified MCF-7-derived exosomes2
Strong staining
Recommended clone: bright staining
rabbit CD81 (human, mouse, rat)
C81/2885R
• Bead-bound MCF-7-derived EVs1
Moderate staining
Lower signal than other CD81 clones
Ep-CAM (human)
VU-1D9
• Bead-bound MCF-7-derived EVs1
See Notes
Ep-CAM expression on MCF7 derived exosomes is low but detectable
Ep-CAM (human)
rVU-1D9
• Bead-bound MCF-7-derived EVs1
See Notes
Ep-CAM (human)
EGP40/826+EGP40/837
+EGP40/1110+EGP40/1120
• Bead-bound MCF-7-derived EVs1
See Notes
1Bead-bound EVs were prepared using PEG-enriched MCF-7 cell derived EVs, immobilized on CD63-specific magnetic beads (Thermo Fisher Scientific)
2SEC-purified MCF-7 cell derived exosomes were prepared using qEV size exclusion columns (SECs) (IZON)
Bead-bound EVs stained with tetraspanin antibodies conjugated to CF® Dyes