Real-time apoptosis detection
Substrate doesn't interfere with apoptosis progression
For flow cytometry, microscopy, or live cell imaging
Fast, simple, and fixable
Homogenous, no wash 15-30 minute assay
Formaldehyde-fixable nuclear staining
Three color options
Blue fluorescent NucView 405
Green fluorescent NucView 488
Orange fluorescent NucView 530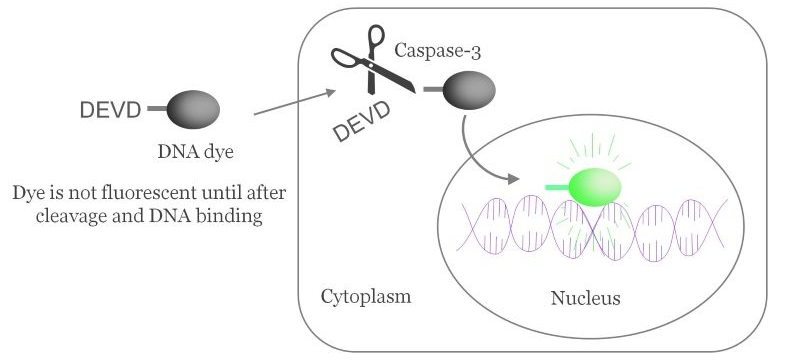 NucView™ 488 Caspase-3 Enzyme Substrate in action. HT-1080 cells were treated with camptothecin and NucView™ 488 Caspase-3 Substrate and imaged every 30 minutes for 24 hours on the IncuCyte® Zoom. Apoptotic cell nuclei fluoresce green as NucView™ 488 dye is released by caspase-3 cleavage. Video courtesy of Essen Biosciences.
NucView™ Caspase-3 Substrates are novel fluorogenic substrates developed by Biotium to detect apoptosis in intact cells in real-time. Biotium has invented a new concept in the design of fluorogenic enzyme substrates. An enzyme substrate moiety is attached to a fluorescent cell staining dye, thereby making the dye non-fluorescent and nonfunctional. Upon enzymatic cleavage of the substrate, the dye is released and becomes capable of binding to its target to emit fluorescence. In the case of NucView™ Caspase-3 Substrates, the caspase-3 substrate peptide DEVD is attached to a DNA-binding dye. Before cleavage, the dye is unable to bind to DNA and thus non-fluorescent. The substrate enters the cell cytoplasm where it is cleaved by caspase-3 to release the fluorogenic DNA dye, which stains the nucleus. Therefore, the bi-functional substrate allows one not only to detect caspase-3 within an apoptotic cell but also to visualize apopototic nuclear morphology. Unlike fluorescently-labeled caspase inhibitor assays (FLICA) that use irreversible inhibitors to label active caspases, NucView™ Caspase-3 Substrates do not interfere with caspase activity, allowing monitoring of caspase activity in real time.
Green fluorogenic NucView™ 488 Caspase-3 Substrate can be detected in the FITC channel by fluorescence microscopy, flow cytometry, or fluorescence microplate reader. Detection of apoptosis using NucView™ 488 Caspase-3 Substrate has been reported in more than 90 different primary and immortalized cells types, including 3-D cultures, in more than
150 publications
. In addition to our green fluorogenic NucView™ 488 Caspase-3 Substrate, Biotium offers blue NucView™ 405 and orange NucView™ 530 fluorogenic caspase-3 substrates. NucView™ 405 dye is excited by the 405 nm laser line for detection by confocal microscopy in the DAPI channel, or by flow cytometry in the Pacific Blue® channel (Figure 3),  for multi-color applications in which the green fluorescence channel is reserved for other detection reagents. NucView™ 530 (excitation/emission 528/563 nm) can be detected by microscopy or flow cytometry in the Cy®3 or R-PE channels.
NucView™ Caspase-3 Substrates are available as a stand-alone substrates, or in kits with other fluorescent apoptosis and necrosis probes for studying the temporal and spatial relations among the different events by fluorescence microscopy or flow cytometry.
See NucView™
products…
Faq
NucView™ Caspase 3 Enzyme Substrates
Most of our products are stable at room temperature for many days, so in all likelihood the product will still work just fine. To be on the safe side, we recommend performing a small scale positive control experiment to confirm that the product still works for your application before processing a large number of samples or precious samples.
One exception that we are aware of is GelGreen™, which is more sensitive to light exposure than most of our other fluorescent dyes. If GelGreen™ is exposed to ambient light for a prolonged period of time (days to weeks), its color will change from dark orange to brick red. If this occurs, the GelGreen will no longer work for gel staining.
← FAQs
The substrate is very stable. Some users have reported performing time course assays with NucView™ 488 Caspase-3 Substrate for 4-5 days.
← FAQs
NucView™ Caspase-3 Substrates can be added to the cells at the start of the experiment or at the end. A major advantage of NucView™ Caspase-3 Substrates compared to other apoptosis assays is that it can be used to monitor capase-3 activity in real time.
← FAQs