RNAstorm™ and DNAstorm™ kits
Isolation of RNA or DNA from FFPE samples with high yield and quality using CAT5™ technology
CAT5™ technology
Gentle, enzymatic method for the reversal of formadehyde cross-linking
Gel extraction kit
Kit for DNA isolation from agarose gels
RNAstorm™ and DNAstorm™ FFPE extraction kits
Formalin-fixed tissue samples are a challenge for RNA and DNA extraction, often resulting in low yields and poor performance in subsequent steps. Most existing methods rely on heat to remove crosslinks and adducts, which is only partially effective and leads to additional fragmentation of labile nucleic acids. In contrast, the catalytic CAT5™ technology, built on research initiated at Stanford University (Ref. 1), greatly accelerates the removal of formaldehyde damage and allows recovery of higher quality nucleic acids. This results in higher yields, more intact RNA or DNA, and better results in downstream analysis like PCR, microarray, or next-generation sequencing (NGS).
CAT5™ catalytic technology
• Enzymatic reversal of formaldehyde crosslinking
• Effective: Higher yields than heat-based methods
• Gentle: no high temperature or harsh solvents
• Higher quality RNA or DNA with less fragmentation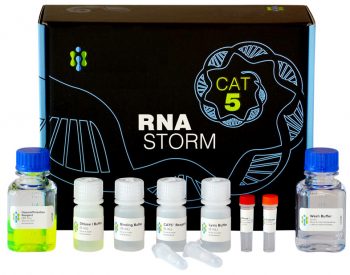 RNAstorm™
Powered by proprietary CAT5™ technology, the RNAstorm™ FFPE extraction kit enhances the removal of formaldehyde-induced damage and purifies RNA with higher yield and quality, better integrity, and greater amplifiability.
The superior quality of RNAstorm-derived RNA has been demonstrated in many ways, including higher RIN score (Fig. 1), higher yield (Fig. 2), higher DV200 (Fig. 3), and improved RNA-seq alignment. According to a tech note from Illumina (Ref. 2), the best predictor of successful performance in Illumina RNA-seq is the DV200 score, which represents the percentage of RNA fragments longer than 200 nucleotides. Whether you are performing RNA-seq, RT-qPCR, microarray, or other gene expression analysis, the RNAstorm™ kit is your best chance for success.
DNAstorm™
Using the same CAT5™ technology as the RNAstorm™ kit, the DNAstorm™ FFPE extraction kit enhances the removal of formaldehyde-induced damage and provides DNA with higher yield, quality and greater amplifiability. The DNAstorm™ kit is the best solution for NGS, qPCR, and other advanced DNA analysis applications.
DNA Gel Extraction Kit
Biotium's DNA Gel Extraction Kit is a silica-gel spin column based DNA extraction kit designed to purify 40 bp-40 kb DNA fragments from agarose gels in TAE or TBE buffer. Each column has a maximum binding capacity of 10 ug DNA. Biotium's DNA Gel Extraction Kit removes GelRed™ and GelGreen™ Nucleic Acid Gel Stains, along with other commonly used nucleic acid gel stains. The purified DNA is compatible with common downstream applications such as transformation, sequencing, PCR, and restriction digests.
References
Karmakar et al., Organocatalytic Reversal of Formaldehyde Adducts of RNA and DNA Bases, Nature Chemistry 2015, 7, 752-758; doi:10.1038/nchem.2307
Evaluating RNA Quality from FFPE Samples: Guidelines for obtaining high-quality RNA sequencing results from degraded RNA with the TruSeq® RNA Access Library Preparation Kit, Illumina Inc.,
downloaded at http://www.illumina.com/documents/products/technotes/technote-truseq-rna-access.pdf