Dog owners have long wondered if there was a way to improve their dogs' bad breath, and now scientists are beginning to look at this question. In a recent issue of the American Journal of Veterinary Research, veterinary and dental researchers from Spain teamed up to test whether eating dental treats could reduce plaque bacteria and halitosis in dogs.
Jeusette et al. fed dogs a dental treat containing Vitamin C and Zinc, or a placebo treat as a control. At various times after treatment, total bacteria and volatile sulfur compounds (VSCs) in the dogs' mouths were measured. Viability PCR, using propidium monoazide (PMA) combined with qPCR, was performed to determine whether the oral bacteria were alive or dead. The researchers found small but significant reductions in P. gulae-like and P. intermedia-like as well as total bacteria for up to 12 hours after treatment, although no differences in bacteria viability were seen. A significant decrease in VSCs (ie, bad breath) was still seen 24 hours after treatment.
The authors propose further studies to test which component of the treat (Vitamin C, Zinc, or mechanical) provided the antibacterial effect. Hopefully this will lead to more effective treatments for dogs' oral health.
To read the original article, click here.
Jeusette IC, Román AM, Torre C, Crusafont J, Sánchez N, Sánchez MC, Pérez-Salcedo L, Herrera D. "24-hour evaluation of dental plaque bacteria and halitosis after consumption of a single placebo or dental treat by dogs." Am J Vet Res, June 2016, Vol. 77, No. 6 , Pages 613-619. doi: 10.2460/ajvr.77.6.613.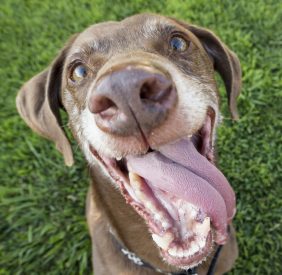 More about viability PCR:
Viability PCR using the dyes PMA or PMAxx™ is a powerful tool to rapidly and quantitatively measure the viability of your cells. Viability PCR has been published in hundreds of citations and for dozens of different bacterial species, as well as other organisms such as fungi and viruses. We recommend the new and improved dye for viability PCR, PMaxx™, made exclusively by Biotium.