One of the most promising avenues of cancer treatment today is immuno-oncology (I-O), in which the body's immune system is induced to destroy cancer cells. Common I-O treatments involve inhibition of the T-cell checkpoint receptors CTLA-4 or PD-1, which can lead to a heightened T-cell response to the cancer. However, some patients do not respond to these treatments in clinical trials, and therefore more research is required to understand the underlying mechanisms of immune checkpoint inhibition or activation.
In a paper by Lim et al. in the December issue of Cancer Cell, Mien-Chie Hung and colleagues in Texas and Taiwan addressed this by studying the effects of proinflammatory cytokines released by tumor-infiltrating macrophages. After inducing inflammation in tumors with LPS, they found an increase in macrophages and a decrease in T-cell cytotoxicity. These macrophages were found to be secreting TNF-α, which was able to increase and stabilize protein expression of the inhibitory ligand PD-L1 on tumor cells. In turn, they used the NucView™ 488 caspase-3 substrate with CRISPR/Cas9 PD-L1 knockout cells to show that TNF-α and PD-L1 were both required for T-cell-mediated killing of tumor cells. The authors went on to show that TNF-α upregulated expression of the deubiquitinase enzyme CSN5, resulting in deubiquitination and stabilization of PD-L1 on the cell surface, protecting the tumor cells from T-cell-mediated killing.
While these results were obtained in animal models and cell culture, the authors looked at breast cancer tumor samples and found correlations between CSN5 expression and PD-L1 expression, and these also correlated with poor patient survival. Taken together, this paper suggests that targeting tumor inflammation pathways could augment the effectiveness of immune-oncology therapies.
To read the original article, click here.
Lim, Seung-Oe et al. Deubiquitination and Stabilization of PD-L1 by CSN5. Cancer Cell 2016, Dec 12;30(6):925-939. DOI: http://dx.doi.org/10.1016/j.ccell.2016.10.010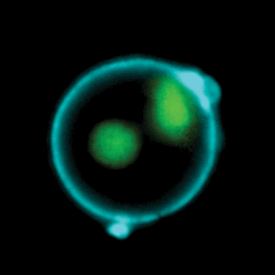 Biotium is the inventor of the revolutionary NucView™ Caspase-3 Substrates for live-cell apoptosis detection. To learn more about NucView™ and live cell caspase cleavage detection, click here.