Biotium congratulates Ruhani Singh, Jiya Kohar, and Prisha Patel on their First-Place Grand Award in the Biochemistry/Molecular Biology Category.
Fremont, CA, April 27, 2023: Biotium, a pioneer in developing safer reagents for life science research, is excited to share that local 8th-grade students from Thornton Junior High School won first place in the Biochemistry/Molecular Biology Category at the California Science and Engineering Fair (CSEF). The project, titled "Understanding genetic and non-genetic factors impacting mental health in teenagers," was conducted by Ruhani Singh, Jiya Kohar, and Prisha Patel, and incorporated the use of Biotium's GelGreen® DNA Gel Stain.
The study focused on the gene SLC6A4 and its relationship with serotonin secretion and general mood. SLC6A4 is a gene that codes for the serotonin transporter protein (SERT) in humans, and previous medical studies have implicated changes in SERT metabolism with many different conditions, including alcoholism, clinical depression, and generalized social phobia.¹ Saliva samples were collected from 31 teenage volunteers, and DNA was isolated from the saliva. The polymerase chain reaction (PCR), a method widely used to rapidly amplify billions of copies of a specific DNA target, was used to analyze a small region on the SLC6A4 gene located on chromosome 17q11.2 associated with small(S) and long(L) serotonin channels. The students used agarose gel electrophoresis to detect and determine DNA band size as either S or L using Biotium's GelGreen® Nucleic Acid Gel Stain to confirm the SLC6A4 genotype of each volunteer. Volunteers also completed a questionnaire that captures lifestyle habits and general mood to assess non-genetic factors and their mental health. Results of this project suggested  genetic factors are not correlated with mental health of the teenagers. However, they found that non-genetic factors correlate with mood, suggesting that changing habits and lifestyle might help improve an individual's mental health. Ruhani Singh, Jiya Kohar, and Prisha Patel share their thoughts on their achievement and experience working on the project:
"Raising awareness about mental health, especially in teenagers, is something that I am very passionate about. This project combined my passion with science and the study of genetics in a new lab environment and was aimed at helping counselors and teenagers in the future. I learned a lot through the procedure of this project and I hope I am able to implement those learnings in future projects as well. We would like to thank the team at Biotium for supporting girls in STEM and encouraging us to learn more about genetics." -Ruhani Singh
" My research experience while working in this project was enlightening, especially analysis on the impact of genetic and non-genetic factors that can affect your day to day life. It was also my first time working in an actual lab and learning about all the procedures we had to go through to be able to visualize DNA in a gel was fascinating." -Jiya Kohar
"Our project just wasn't about some science fair we wanted to compete in, we wanted to truly help make a positive change within our own schools and community through our research. Throughout our study, I learned skills that I will continue using all throughout my career as well. Our first time in a lab, our first time analyzing DNA samples, and our first time conducting a full study with human samples was an experience that taught me so much and has developed something that could help so many students when dealing with their complicated emotions." -Prisha Patel
The project was awarded first place in the Alameda Science Fair on March 24, 2023, and the Grand Award in the Biochemistry/Molecular Biology Category at the California Science and Engineering Fair (CSEF) on April 11, 2023.
Biotium is proud to have played a role in this project by donating GelGreen® DNA Gel Stain for visualizing DNA in agarose gels. We congratulate Ruhani Singh, Jiya Kohar, and Prisha Patel on their outstanding achievement. We are thrilled to see young women exploring the possibilities of science to address important topics like mental health.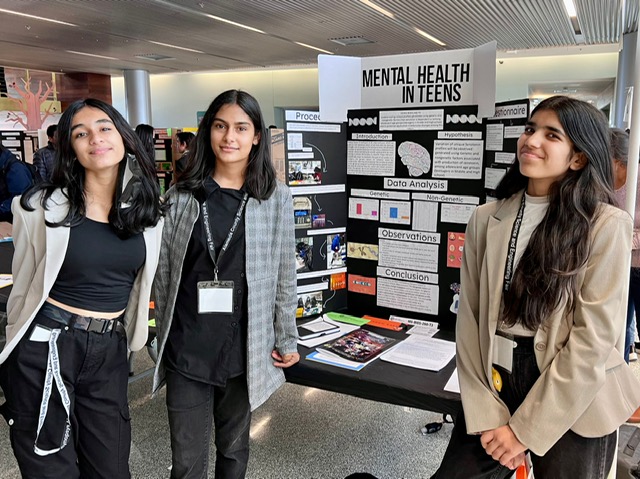 References
Murphy, D. L., & Moya, P. R. (2011). Human serotonin transporter gene (SLC6A4) variants: their contributions to understanding pharmacogenomic and other functional G× G and G× E differences in health and disease. Current opinion in pharmacology, 11(1), 3-10.