In the past few decades, approaches to antiretroviral drugs for human immunodeficiency virus (HIV) have been rapidly evolving, including drugs with improved bioavailability, antiviral responses, and administration, as well as reduced toxicities. However, even after successful treatment protocols, the infection is not cured due to tissue reservoirs of the virus. Thus, one aspect of HIV treatment that remains to be addressed is development of long-acting antiretroviral treatments with better targeting for cell and tissue reservoirs of the virus.  
In a recent publication in PLOS One, Martinez-Skinner et al. developed an injectable phagocyte-targeted nanoformulated antiretroviral therapy (nanoART) that would better target lymph node, spleen, and liver cell populations. Nanoformulated atazanavir (nanoATV) was prepared using ATV-sulfate and the polymer poloxamer-188. To make fluorescent nanoATV, the polymer was pre-conjugated to CF®633 SE, before being added to ATV-sulfate. Cell and tissue distribution of CF®633-labeled nanoATV was analyzed in mice post-injection in isolated liver, spleen, lymph node, and muscle cells by confocal microscopy.
The authors assessed temporal leukocyte responses, drug uptake, and distribution of nanoART following injections, and found that ATV levels were highest at injection sites in peritoneal and muscle macrophages. Tissue macrophages showed the largest reservoir for nanoparticles from the injections. They concluded that nanoATV induces an innate immune response in mice consistent with rapid tissue macrophage distribution. The findings of this study show promise towards treating tissue reservoirs of HIV virus in humans.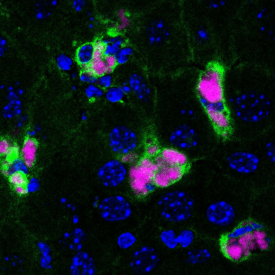 Learn more about Biotium's high-performance far-red CF®633 Dye and over 40 other CF® Dyes spanning the visible, far-red, and near-IR spectra. Biotium also offers Mix-n-Stain™ CF® Dye Antibody Labeling Kits for rapid and efficient antibody labeling with minimal hands-on time.
Full Citation:
Martinez-Skinner AL, Araínga MA, Puligujja P, Palandri DL, Baldridge HM, Edagwa BJ, et al. Cellular Responses and Tissue Depots for Nanoformulated Antiretroviral Therapy. PLOS One 10(12): e0145966. (2015). https://doi.org/10.1371/journal.pone.0145966