Yeilds the brightest conjugates among spectrally similar dyes
Far more photostable than Alexa Fluor® 647
Validated in TIRF and other super-resolution methods
Far-red fluorescent dyes offer the advantage of ultra sensitive detection because background signal due to autofluorescence in most biological samples is minimal in this spectral region. For many years, the cyanine dye Cy®5 has been the dye of choice for such detection. More recently, Alexa Fluor® 647 has been developed as a better alternative by having brighter fluorescence and higher photostability. Despite the improvement, Alexa Fluor® 647 still lacks sufficient photostability required for many demanding applications. On the other hand, while Alexa Fluor® 633 is photostable, its fluorescence on proteins is very weak.
Using new chemistry, scientists at Biotium have successfully developed CF®633 to overcome the limitations of other far-red dyes. CF®633 is significantly brighter than spectrally similar dyes (Figure 2). The most important advantage of CF®633, however, is its unmatched photostability (Figure 3). The combination of superior brightness and photostability make CF®633 the best choice for any detection system using a 633 or 635 nm laser excitation source. CF®633 also is compatible with TIRF and other super-resolution imaging methods (learn more about CF® Dyes for Super-Resolution Imaging).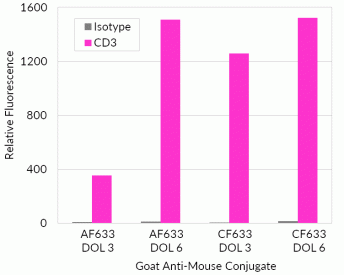 CF®633 Technical Summary
Abs/Em maxima: 630/650 nm
Extinction coefficient: 100,000
Molecular weight: ~820
Laser line: 633 or 635 nm
Direct replacement for: Alexa Fluor® 633, Alexa Fluor® 647, Cy®5 and DyLight® 649
CF®633 Features
Brightest far-red fluorescent conjugates
Excellent photostability
Highly water soluble and pH-insensitive
Compatible with TIRF and other super-resolution methods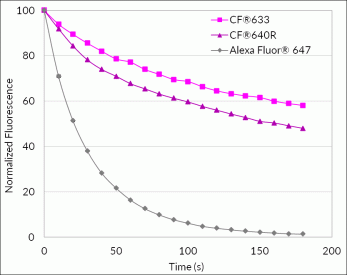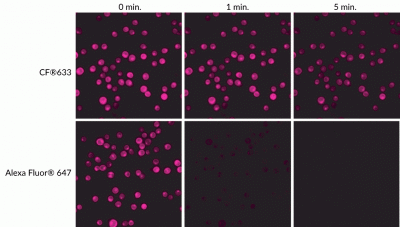 CF is a registered trademark of Biotium Inc. Alexa Fluor and DyLight are registered trademarks of Thermo Fisher Scientific; Cy Dye is a registered trademark of GE Healthcare.
Additional conjugates or reactive dye forms may be added on request, contact techsupport@biotium.com to inquire.
Faq
CF® Dyes
CF® initially was an abbreviation for Cyanine-based Fluorescent dyes. These were the first patented CF® dyes based on cyanine dye structures. Since then, our CF® dye patent portfolio has expanded to include four different fluorescent dye core structures that cover the fluorescence spectrum from UV to NIR.
← FAQs
The exact chemical structures of CF® dyes are currently confidential but will be fully disclosed at a later stage when pending patents become granted. In general terms, the structure of a CF® dye may be divided into two parts: a) dye core structure (i.e. the aromatic ring skeleton that defines the dye's color or absorption/emission wavelengths), and b) core structure-modifying elements. At present, CF® dyes bear the core structures of coumarin, pyrene, rhodamine or cyanine dyes. Blue fluorescent CF® dyes are based on coumarin or pyrene dye core structure, while green to near-IR CF® dyes are based on either cyanine or rhodamine dye core structures. Core structure-modifying elements refer to various chemical attachments to the core structure and are a key aspect of the CF® dye invention that makes CF® dyes superior to other commercial dyes.
← FAQs