Chromosomal analysis plays a critical role in the screening, diagnosis and management of inherited genetic disorders and cancer. Current karyotyping methods rely on metaphase chromosomal analysis which is limited by the availability of adequate abnormal mitotically active cells, and can lead to false-negatives or failed analysis in some cases with obvious clinical implications.
The authors of a recent paper in Archives of Pathology & Laboratory Medicine describe the development and validation of a novel, high-resolution cytogenetic method, interphase chromosome profiling (ICP). This approach uses interphase cells which are in abundant supply, and can accurately detect all numerical (aneuploidy) and structural (balanced and unbalanced) chromosomal  rearrangements providing a more reliable and accurate karyotyping method. FISH probes were generated via nick translation using Biotium's fluorescent labeled dUTPs, DEAC , Fluorescein-12 , Cyanine 555, Cyanine 647, and CF®594 to probe target sequences in an equidistant manner along the entire length of each chromosome. This configuration provides an evenly-spaced color banding pattern equivalent of a 600-band resolution karyotype, in contrast to the usual karyotypes obtained at a 400-or-fewer band resolution and facilitates the evaluation of entire chromosomes in normal and disease states. Using this approach, the authors were able to reliably karyotype all 84 samples in the study as well obtain clinically interpretable results for 29 previously failed cases, demonstrating the utility of this method in clinical diagnostics as virtually failure-proof,  reducing the need for costly and in several cases risky repeated sample collection.
To read the original article, click here.
Babu R, Van Dyke DL, et al. Interphase Chromosome Profiling: A Method for Conventional Banded Chromosome Analysis Using Interphase Nuclei. Arch Pathol Lab Med. 2017 Oct 5. doi: 10.5858/arpa.2016-0621-OA.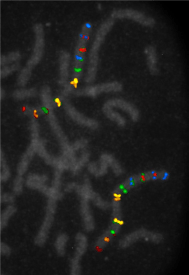 Learn more about Biotium's fluorescent and conjugated nucleotides. Biotium offers a full selection of super-bright and photostable CF® dyes and other fluorescent conjugate labeled dUTPs suitable for single and tandem labeling applications for high-resolution microscopy.