Coelenterazine e
Coelenterazine e is a synthetic derivative of coelenterazine, and is a superior substrate for Renilla luciferase.  Coelenterazine e generates nearly 40% more light than native coelenterazine does while the initial light intensity of the former is more than 7 times higher than that of the latter
Wishlist updated! View wishlist
Shipping, Handling & Tax (CA only) not included in price. Learn more

Tax is assessed in the state of California. All fees will be calculated during checkout based on your shipping information and are subject to change.
SPECIAL - Order 5 or more and receive 10% off.
Request a Bulk Quote
Product Description
Coelenterazine e is a synthetic derivative of coelenterazine, and is a superior substrate for Renilla luciferase.  Coelenterazine e generates nearly 40% more light than native coelenterazine does while the initial light intensity of the former is more than 7 times higher than that of the latter.  The emission spectrum of coelenterazine e/Renilla luciferase has two peaks centered at 418 and 475 nm, respectively.Coelenterazine e is also a good substrate for apoaequorin and, compared with coelenterazine native, the e-aequorin compelx formed from coelenterazine e has a faster luminescence rise time and shows two emission peaks at 405 and 465 nm respectively, with the ratio of the peak heights dependent on calcium concentration in the range pCa 5-7.  The dual emission makes coelenterazine e/apoaequorin possible to be used for calcium detection using the ratio of the two emission intensities.
Yellow solid soluble in MeOH or EtOH
Store at -20°C and protect from light
C28H23N3O3
MW: 449.50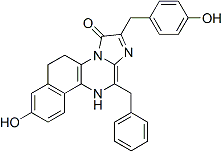 References