DNAzure® Blue Nucleic Acid Gel Stain, 100X
DNAzure® Blue Nucleic Acid Gel Stain is an ultrasensitive reagent for visible staining of dsDNA in agarose or polyacrylamide gels.
Wishlist updated! View wishlist
Shipping, Handling & Tax (CA only) not included in price. Learn more

Tax is assessed in the state of California. All fees will be calculated during checkout based on your shipping information and are subject to change.
SPECIAL - Order 5 or more and receive 10% off.
Request a Bulk Quote
Product Description
Visualize DNA bands in gels by eye, with detection sensitivity rivaling most fluorescence-based gel stains. Key to the technology is a DNA-binding dye that turns from colorless to deep blue upon exposure to light.
The benefits include:
Deep blue bands visible by the naked eye following 5-30 min light exposure
Ultrasensitive detection, as little as ~1 ng DNA
Simplified DNA band excision, without the need for DNA-damaging UV light
Bands are stable for weeks after color development
Compatible with downstream applications such as sequencing and cloning
Expensive gel documentation systems not required for imaging
Stain also can be imaged on LI-COR® Odyssey® or other near-IR imaging systems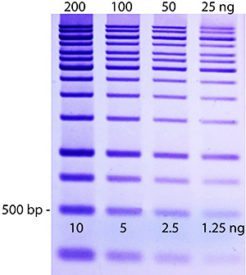 Biotium's 1 kb DNA ladder was loaded on a 1% agarose gel in two-fold dilutions, ranging from 200 ng to 25 ng total ladder per lane. The mass of the 500 bp band in each lane is labeled. The gel was stained with DNAzure® Blue Nucleic Acid Gel Stain for 25 minutes, and then the visible blue DNA bands were developed for 30 minutes using the Glo-Plate™ Blue LED transilluminator. The gel was placed on a white light transilluminator and imaged with a cell phone camera.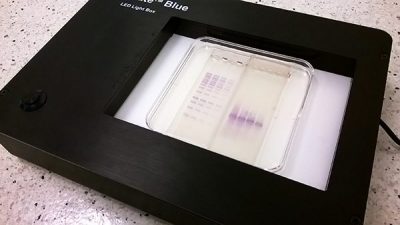 After incubation with DNAzure® Blue Nucleic Acid Gel Stain, the gel must be exposed to bright light to facilitate the development of dark blue DNA bands. 
Light exposure can be performed with a variety of white and blue light sources. For best results, we recommend performing the light exposure with either the Gel-Bright™ LED Gel Illuminator or the Glo-Plate™ Blue LED Illuminator. Both devices produce blue light from LEDs and are very effective at rapidly producing the color change in DNAzure®-stained gels. The Gel-Bright™ is also an excellent instrument for viewing gels stained with the fluorescent green DNA gel stain, GelGreen®.
LI-COR and Odyssey are registered trademarks of LI-COR Inc.
Support & Faq
DNAzure® Visible DNA Gel Stain
For optimal staining, we recommend diluting the 100X DNAzure® stock to 1X working solution fresh each time. However, if a 1X solution stored at 4°C and protected from light, the gel stain should to be good up to two weeks.
← FAQs
Yes, the 1X DNAzure® staining solution can be re-used for multiple gels, under certain conditions. Importantly, the staining solution must be removed from the gel before the gel is exposed to light to develop the bands. If the staining solution undergoes the light exposure, it will not be able to stain another gel. The used staining solution should be stored in the refrigerator, protected from light, between uses. We have successfully re-used the staining solution stored for up to 2 weeks, and used up to 4 times with little loss of signal (after 5 or 6 uses, the sensitivity was noticeably lower).
← FAQs
We recommend storing DNAzure® at 4°C. After storage at room temperature, we have seen some loss of dye stability.
← FAQs
Shipping/Shelf-life
Shipping & Handling Disclaimer: Shipping and handling methods are calculated based on item temperature storage recommendation. Large, multi-item orders may be assessed additional fees. Shipping to Puerto Rico may be assessed additional fees. A Biotium customer service representative will contact you if additional fees are required. For expedited shipping, please request in the Order Notes section of the checkout page. Please note that products with recommended storage at 4°C or -20°C may ship at ambient temperature. This will not affect product performance. When you receive the product, place it under the recommended storage conditions.