Glo-Plate™ Blue LED Illuminator
A multi-functional blue LED light box that can be used for photolysis of PMAxx™ or PMA in viability PCR. It is also an excellent way to develop the staining of gels stained with the visible blue DNA gel stain DNAzure®.
Product Description
The Glo-Plate™ Blue LED Illuminator is a light-weight, multi-functional LED light box. The LEDs in the Glo-Plate™ Blue were designed for optimal photolysis of PMAxx™– or PMA-treated samples in viability PCR applications.
Bright and even illumination across a wide light area for multi-well plates
Four timer settings for 10, 15, 20 or 30 minutes of continuous illumination
Long-lasting blue LED lights with optimal emission for efficient activation of PMAxx™, PMA, EMA, and other similar azido dyes
Can be used to develop visible blue DNA bands when using DNAzure™ Blue Nucleic Acid Gel Stain
Compatible with both 120 and 240V electric sources
A universal outlet adaptor is provided for customers outside of North America
The Glo-Plate™ Blue device is designed for flexibility and high-throughput assays. The base of the Glo-Plate™ Blue chamber contains blue LED lights topped with a diffuser, allowing for even illumination across entire multi-well plates. If you need a device designed for use with microcentrifuge tubes, see our PMA-Lite™ LED Photolysis Device.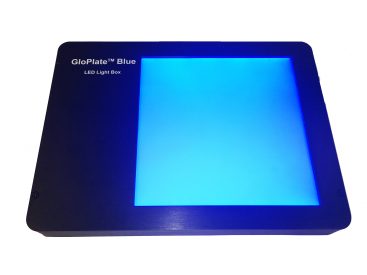 Viability PCR
Viability PCR is a powerful technology for the sensitive and rapid detection of viable microorganisms. Unlike time-consuming culturing methods, qPCR is a fast and sensitive method of detection. However, normal qPCR does not distinguish between live and dead cells. With v-PCR using PMAxx™ or PMA, you get the speed, sensitivity and specificity of PCR, plus quantifiable viability. And because no culturing is required, you can even detect viable but not culturable (VBNC) bacteria. The v-PCR technology can be applied not only to bacteria but to other organisms like yeast, viruses, eukaryotes, and archaea.
To learn more about the advantages of determining microbial or cell viability using viability PCR, visit the Viability PCR Technology Page.
PMAxx technology is covered by granted and/or pending US and international patents.
Visualize DNA Bands in Gels
The Glo-Plate™ Blue LED Illuminator  is also an excellent light source for developing the staining of gels stained with the visible blue DNA gel stain DNAzure®. DNAzure® is a novel, visible blue DNA gel stain with extremely high sensitivity. After staining with DNAzure® the DNA bands first appear colorless, but then become dark blue after developing with light exposure. The benefit to using DNAzure® instead of fluorescent DNA dyes is that once the stain has developed, the DNA can be visualized by eye, without the need for imaging equipment. This is particularly advantageous for processes such as gel excision.
References