Live-or-Dye™ Fixable Viability Staining Kits are designed for discrimination between live and dead cells during flow cytometry. Live/dead stains are useful probes to include when analyzing cell surface protein expression by flow cytometry, because they allow intracellular fluorescence signal from dead cells with permeable plasma membranes to be excluded from analysis. In microscopy, live/dead stains allow unambiguous visual discrimination of dead cells.
Live-or-Dye™ Fixable Viability Stains are cell membrane impermeable amine-reactive dyes. The dyes enter dead cells that have compromised membrane integrity and covalently label free amines on intracellular proteins. On live cells, the dyes react with surface proteins, but these are much less abundant than intracellular proteins, resulting in low staining levels compared to dead cells (Figure 1). Live-or-Dye™ Fixable Viability Staining Kits can also be used to discriminate live from dead cells during microscopy. So far four of the dyes have been validated for use in microscopy: Live-or-Dye™ 488/515, Live-or-Dye™ 568/583, Live-or-Dye™ 594/614, and Live-or-Dye™ 640/662.
Live-or-Dye™ labeling is extremely stable, allowing the cells to be fixed and permeabilized without loss of fluorescence or dye transfer between cells. The staining protocol has been optimized to maximize live/dead discrimination with minimal live cell staining, in order to prevent interference with immunostaining. Biotium offers a selection of eight amine-reactive different Live-or-Dye™ viability stains and one nuclear-labeling Live-or-Dye™ viability stain, spanning the fluorescence spectrum, for maximal flexibility in multi-color analysis.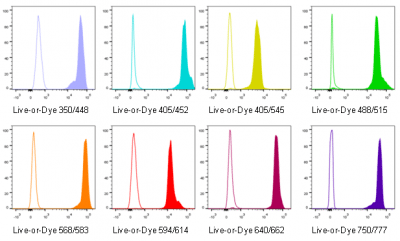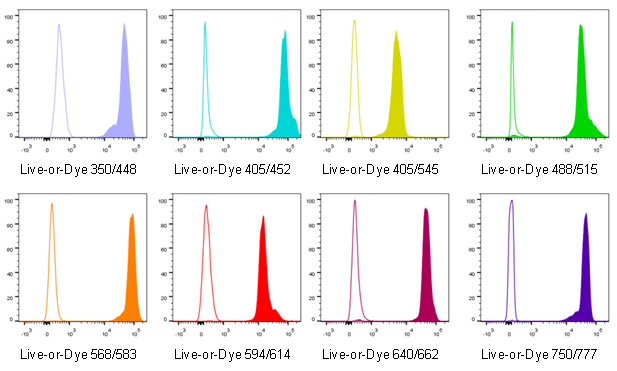 Live-or-Dye NucFix™ Red is a unique, cell membrane impermeable dye that specifically stains the nuclei of dead cells. Unlike other commonly used nuclear stains such as Propidium Iodide or DRAQ7, NucFix labeling is fixable.
For more information, download the Live-or-Dye Flyer and Product Information Sheets:
Live-or-Dye Product Information Sheet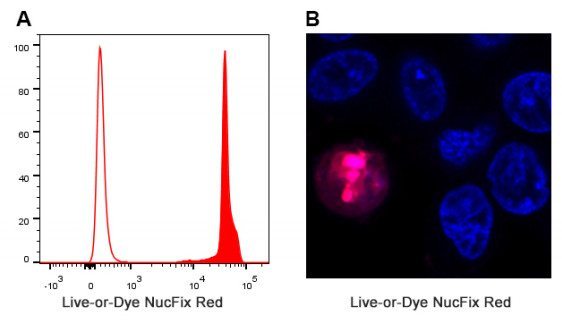 Also see our other Products for Products for Flow Cytometry.