This toxin reversibly blocks the sodium channels of neurons and has been a widely used tool for mechanistic studies of neurons, skeletal muscle, and cardiac muscle cells.
Product Description
Tetrodotoxin (TTX) is potent neurotoxin that reversibly binds and blocks sodium channels to disrupt the action potential and inhibit the firing of neurons. It is a widely used tool to study the mechanism of action of neurons, skeletal muscle cells, and cardiac muscle cells.
Reversibly binds and blocks voltage-gated sodium channels
Available with citrate or citrate-free
Tetrodotoxin with citrate is water soluble
Tetrodotoxin citrate-free can be dissolved in slightly acidic buffer. Tetrodotoxin with citrate can be dissolved in water to obtain TTX in pH 4.8 citrate buffer.
Chemical Structure: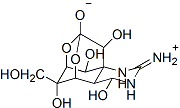 Note: This product is not available for sale outside of the U.S.
References