Texas Red®-DHPE
Texas Red®-DHPE is a rhodamine-labeled glycerophosphoethanolamine lipid.
Wishlist updated! View wishlist
Shipping, Handling & Tax (CA only) not included in price. Learn more

Tax is assessed in the state of California. All fees will be calculated during checkout based on your shipping information and are subject to change.
SPECIAL - Order 5 or more and receive 10% off.
Request a Bulk Quote
Product Description
Texas Red®-DHPE (N-(Texas Red sulfonyl)-1,2-dihexadecanoyl-snglycero-3-phosphoethanolamine, triethylammonium salt) is a rhodamine-labeled glycerophosphoethanolamine lipid. DHPE conjugates of rhodamine dyes have been used as fluorescence energy acceptors in combination with NBDPE as the donor in membrane fusion assays using the principle of fluorescence energy transfer (FRET) (1-3). These probes have also been used for following membrane trafficking during endocytosis (4,5).
λEx/λEm (MeOH) = 582/601 nm
Dark solid soluble in chloroform
Store at -20°C and protect from light
C74H117N4O14PS2
MW: 1380.77
[187099-99-6]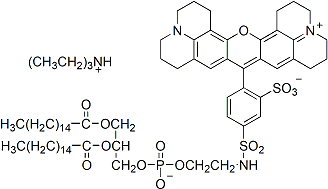 Texas Red is a registered trademark of Thermo Fisher Scientific.
References
1. Analytical Chemistry (2013), doi: 10.1021/ac4020726