Tyramide Amplification Kits
Biotium's Tyramide Amplification Kits are powerful tools to achieve immunofluorescence staining of cells or tissues with exceptional sensitivity and signal-to-noise. After binding to primary antibodies or biotinylated primary antibodies, an HRP-conjugated secondary antibody or streptavidin mediates covalent coupling of CF® dye-tyramide to tyrosine-containing proteins in the vicinity of the reaction site. This enzymatic coupling reaction allows the target proteins to be labeled with large number of dye molecules, creating stronger fluorescence signal compared to using dye-labeled antibodies. Therefore Tyramide Amplification Kits offer benefits of high sensitivity and signal-to-background ratio, enabling the visualization of low-abundance targets that cannot be efficiently labeled using traditional immunostaining methods.
Our Tyramide Amplification Kits features Biotium's next-generation CF® dyes spanning the entire visible to far-red spectrum in combination with our high-performance HRP-conjugated secondary antibodies and streptavidin. The superior brightness and photostability of CF® dyes ensure that our kits perform equally well or better compared to competitors' products. We offer Tyramide Amplification Kits with HRP goat anti-mouse, HRP goat anti-rabbit, or HRP streptavidin, with your choice of biotin tyramide or a selection of CF® dye tyramides. See Tyramide Amplification Kits.
Multi-color labeling using Tyramide Amplification Kits
Our Tyramide Amplification Kits have been demonstrated to be robust and versatile for multi-color fluorescence imaging, compatible with dye-labeled antibodies and various cell staining methods (see Figure 1). When using one Tyramide Amplification Kit in addition to one or more dye-labeled antibodies, follow the kit protocol to fix and block samples; label with primary antibodies; then detect primary antibodies using multiple secondary antibodies simultaneously, including the HRP-conjugated secondary antibodies or streptavidin from the kits and the dye-labeled antibodies. After incubation and washing the samples can be labeled with CF® dye-tyramides according to the kit protocol. The HRP-mediated dye labeling reaction does not interfere with the binding of dye-labeled antibodies or other fluorescent staining reagents.
Two different kits can also be used sequentially to label different targets on one sample using primary antibodies from different host species. In general, after primary antibody labeling, the sample needs to be detected and labeled with the first Tyramide Amplification Kit, followed by a quenching step to deactivate the HRP, and then detected and labeled with the second Tyramide Amplification Kit. In the following sections we provide a sample protocol, expected results, and technical tips for using two Tyramide Amplification Kits in tandem to label different targets.

Protocol for sequential labeling using two Tyramide Amplification Kits
This sample protocol is for sequential labeling using (1) a Tyramide Amplification Kit with HRP Goat anti-rabbit IgG, and then (2) a Tyramide Amplification Kit with HRP Goat anti-mouse IgG. The same guideline can also be applied to other combination of the kits.
Choose the two kits with different CF® dyes. Make sure your microscope is capable of separating the fluorescence signals of the two colors.
Follow the kit protocol (part A through D) of the Tyramide Amplification Kit with HRP Goat anti-rabbit IgG to prepare all reagents, fix and permeabilize samples, block with BSA and if necessary, quench the endogenous peroxidase activity.
Perform primary antibody labeling according to customer protocol and/or instructions from the primary antibody manufacturers. Multiple primary antibodies can be applied simultaneously.
Follow the kit protocol (part E) of the Tyramide Amplification kit with HRP Goat anti-rabbit IgG to wash the samples, detect with HRP Goat anti-rabbit IgG, and then label with CF® dye-tyramide.
Prepare peroxidase quenching buffer: 0.3% (w/w) H2O2 and 0.1% (w/w) NaN3 in PBS. We recommend preparing this buffer immediately before using. For cell samples in 96-well plates, prepare no less than 100 µL of peroxidase quenching buffer for each well. For tissue sections, make sufficient amount of peroxidase quenching buffer so that the slides can be soaked in a container that is filled with this buffer.
Quench the peroxidase activity by incubating the samples with peroxidase quenching buffer for 15 minutes at room temperature. Then rinse 3 times with PBS.
Follow the kit protocol (step 3 – 8 in part E) of the Tyramide Amplification Kit with HRP Goat anti-mouse IgG to detect with HRP Goat anti-mouse IgG, and then label with CF® dye-tyramide.
Expected results
Figure 2 shows multi-color images of cells and a tissue section that were sequentially labeled with two Tyramide Amplification Kits, following the protocol described in the previous section. Both kits provide strong fluorescence signal with minimal background. No visible crosstalk was detected. The protocol can be further combined with other cell staining methods to achieve 4-color imaging (Figure 2A).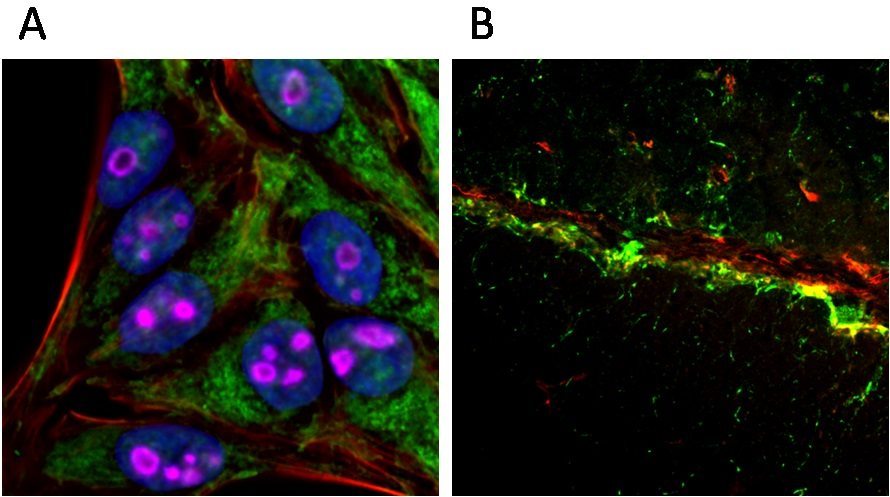 Technical Tips
In addition to the Technical Notes listed in the kit protocol, we also recommend the following tips for multi-color immunofluorescence imaging using the Tyramide Amplification Kits.
Always start with labeling single target in the first round of experiment. If necessary, troubleshoot and optimize the protocol according to the guidelines provided in the Technical Notes section of the protocol. Run multiple labeling experiments after each labeling method is optimized.
Make sure the sample preparation method is compatible with all targets. For instance, we found that tubulin are better detected when the samples are fixed with methanol; while the formaldehyde fixation protocol works better for actin, nucleolin, and cyclin B1 detection. Caution must be taken when working with targets that need special treatment.
For multi-color imaging, try to optimize the system so that labels with different colors give comparable fluorescence intensity under your microscope. For example, if the fluorescence signal in the green channel is far stronger than that of the red channel, there may be a risk of the green fluorescence bleeding into the red channel.
When doing sequential labeling using two Tyramide Amplification Kits, it is crucial to completely quench the HRP activity after detection and labeling with the first kit. We recommend to use generous amount of quenching buffer so that the sample is well-covered by the buffer, and the buffer should be freshly prepared. If possible, gently shake the samples during incubation.
For sequential labeling using two Tyramide Amplification Kits, we also recommend to try different orders of applying the two kits. If using kit 1 followed by kit 2 results in crosstalk (which means the target to be detected by kit 1 is also stained by kit 2, try switching them and use kit 2 first. We have found that staining the less abundant target first, then staining the more abundant target usually gives better results.
Tyramide Signal Amplification Kits