Fluo-4 AM Ester
Membrane-permeant form of Fluo-4 calcium indicator.
Product Description
Membrane-permeant AM ester form of Fluo-4 that can enter into into cells via incubation. Fluo-4 AM ester itself does not bind Ca2+, but it is readily hydrolyzed to Fluo-4 by endogenous esterases once inside cells. Fluo-4 AM ester is often used to measure intracellular calcium in high throughput drug screening.
Fluo-4 is an analog of Fluo-3 with the two chlorine substituents replaced by fluorines, which results in increased fluorescence excitation at 488 nm that gives higher fluorescence signal. Fluo-4 has its absorption maximum at 494 nm, thus making it excitable by the argon-ion laser. Fluo-4 is essentially nonfluorescent without Ca2 present, but the fluorescence increases at least 100 times on Ca2+ binding. Also, because Fluo-4 binds Ca2+ more weakly (higher Kd) than do fura-2 and indo-1, it is more useful for measuring high transient Ca2+ concentration during Ca2+ spikes.
Fluo-4 AM ester can be used to detect intracellular free calcium by fluorescence microscopy, flow cytometry, or fluorescence microplate reader.
We also offer Fluo-4 as a membrane-impermeant pentapotassium salt version, Cat # 50019.
Orange red solid soluble in DMSO
Store -20°C and protect from light, especially when in solution
λEx/λEm (with Ca2+): 494/506 nm (after hydrolysis)
Kd for Ca2+ in buffer: ~335 nM (after hydrolysis)
C51H50F2N2O23
MW: 1096.95
[273221-67-3]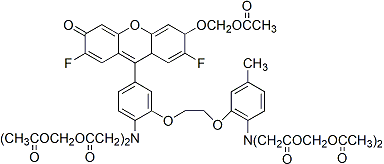 References
Cell Calcium (2000), doi: 10.1054/ceca.1999.0095