Gel-Bright™ LED Gel Illuminator
A non-UV, blue LED lightbox with a light source and filters for optimal detection of nucleic acids and proteins labeled with green or red fluorescent dyes.
Product Description
The Gel-Bright™ LED Gel Illuminator is a light-weight, non-UV lightbox for detection of fluorescently labeled nucleic acids and proteins. This patented product possesses novel features enabling imaging performance superior to that of other LED illuminators on the market. The proprietary light source and unique filter mechanism ensure optimal excitation and clear visualization of both green and red fluorescent dyes.
Safer non-UV light source eliminates the need for protective eye wear
Blue LEDs with adjustable intensity surround the stage for even illumination and excitation
Multi-hinged amber filter for easy visualization of fluorescent dyes and elimination of background
Compatible with GelRed® and One-Step Lumitein™ Protein Gel Stain as well as other red fluorescent dyes such as ethidium bromide
Can be used to facilitate generation of visible blue DNA bands when using DNAzure® Blue Nucleic Acid Gel Stain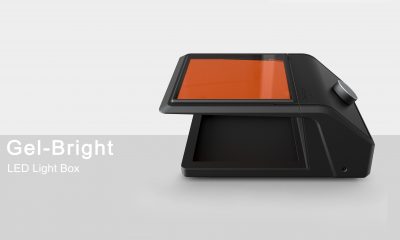 Convenient, Optimized Detection
The Gel-Bright™ LED Gel Illuminator is optimized for detection of green dyes, such as GelGreen®, EvaGreen®, and SYBR® Green. It is also compatible with red dyes such as GelRed®, One-Step Lumitein™ Protein Gel Stain, and ethidium bromide. However the sensitivity for the red dyes is not as high as for the green dyes. Other compatible fluorescent dyes are listed in the PI. The base of the Gel-Bright™ contains an array of LED lights around the periphery of the gel box, allowing for even illumination. Above the gel box is a mounted amber filter that allows the visualization of a fluorescent signal. The filter can be tilted to allow easy access to the gel for processes such as band excision, or lowered to allow the gel to be photographed.
Safer Gel Visualization
The Gel-Bright™ light box is ideal for visualizing and excising DNA bands from a gel, since unlike UV light, the LED lights do not cause damage to the DNA sample. The Gel-Bright is also safer for the user than a UV light box. When combined with non-mutagenic and environmentally friendly GelGreen®, Gel-Bright™ is ideal for educators and other users that prefer the safest elecrophoresis methods possible.
The Gel-Bright™ LED Gel Illuminator  is also the best light source for developing the staining of gels stained with the visible blue DNA gel stain DNAzure®. DNAzure® is a novel, visible blue DNA gel stain with extremely high sensitivity. After staining with DNAzure® the DNA bands first appear colorless , but then become dark blue after developing with light exposure. The benefit to using DNAzure® instead of fluorescent DNA dyes is that once the stain has developed, the DNA can be visualized by eye, without the need for imaging equipment. This is particularly advantageous for processes such as gel excision.

 Other Features:
No UV-induced damage of DNA
LEDs angled diagonally for even illumination throughout the gel
Optimized amber filter to improve signal to background ratio
Ergonomically designed for easy access to the gel, for gel slice excision
Multi-hinged amber filter for maximum angle and height positioning options
Unique moisture venting mechanism to prevent fogging of amber filter
GelRed, GelGreen, EvaGreen, and DNAzure are registered trademarks of Biotium, Inc. SYBR is a registered trademark of Thermo Fisher Scientific.
References