Nile Red
Nile red is used to localize and quantitate lipids, particularly neutral lipid droplets within cells. Nile red is almost nonfluorescent in water and other polar solvents but undergoes fluorescence enhancement and large absorption and emission blue shifts in nonpolar environments.
Wishlist updated! View wishlist
Shipping, Handling & Tax (CA only) not included in price. Learn more

Tax is assessed in the state of California. All fees will be calculated during checkout based on your shipping information and are subject to change.
SPECIAL - Order 5 or more and receive 10% off.
Request a Bulk Quote
Product Description
Nile red is used to localize and quantitate lipids, particularly neutral lipid droplets within cells. Nile red is almost nonfluorescent in water and other polar solvents but undergoes fluorescence enhancement and large absorption and emission blue shifts in nonpolar environments. For lipid droplet dyes with improved specificity and more wavelength options compared to Nile Red, see our LipidSpot™ Lipid Droplet Stains
Dark red solid soluble in DMF and DMSO
Abs/em=552nm /636 nm (methanol)
Store at 4°C and protect from light
C20H18N2O2M
MWt: 318.37
[7385-67-3]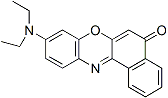 References