CF® Dye TCO
CF® Dye with TCO (trans-cyclooctene) groups react with tetrazine-labeled molecules via copper-free click chemistry.
Product Description
CF® Dye with TCO group reacts with tetrazine containing molecules via copper-free click chemistry. Copper-free bioorthogonal reactions are useful for labeling live cells, or when there are concerns about native protein function loss with copper in cell extracts. Membrane-permeant CF® Dye methyltetrazine options are also available for intracellular labeling reactions.
Available CF® Dye TCO derivatives: CF®488A, CF®532, CF®555, CF®568, CF®594, CF®640R, CF®647, CF®680, and CF®680R including membrane-permeant CF®500, and CF®650 TCO.
Fluorescent labeling of tetrazine groups on target molecules via copper-free bioorthonal chemistry.
Membrane-impermeant and membrane-permeant forms for  surface or intracellular labeling of live cells or cell extracts.
Bright, photostable and water-soluble CF® Dyes are excellent options for fluorescent labeling.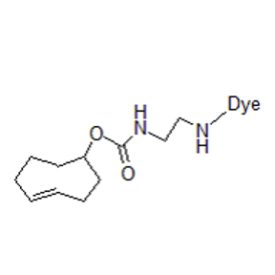 We also offer CF® Dye tetrazine and CF® Dye methyltetrazine.
Superior CF® Dyes
Biotium's next-generation CF® Dyes were designed to be highly water-soluble with advantages in brightness and photostability compared to Alexa Fluor®, DyLight®, and other fluorescent dyes. Learn more about CF® Dyes. For more information download the CF® Dye Brochure.
CF Dye TCO: Product & SKU Summary