Here we provide an overview of different variables and techniques in immunofluorescence (IF) staining workflows. Also see our basic protocols for Immunofluorescence Staining of Cells for Microscopy, Cell Surface Staining for Flow Cytometry, and Intracellular Staining for Flow Cytometry.
Jump to a topic:
Culturing Cells for Microscopy
Cells can be imaged through tissue culture plastic with an inverted fluorescence microscope using objectives with low magnification and a long working-distance. High magnification oil-immersion objectives have short working distance and will not permit imaging through tissue culture plastic. Instead, coverglass should be used for imaging with oil-immersion objectives.
Cell culture-treated chambered coverglasses or coverglass-bottom 96-well plates are useful for culturing cells, and work very well for live cell imaging with an inverted fluorescence microscope. However, we have found that when fixing cells and permeabilizing cells in chambered coverglasses for immunofluorescence staining, the chambers can begin to leak. This can lead to artifacts from antibodies leaking from one well into neighboring wells. In our experience, coverglass-bottom 96 well plates withstand fixation and permeabilization conditions very well, even with alcohol, with no leakage between wells. Similarly, plastic chamber slides with removable chambers that allow coverslip mounting also may used, but they should be validated for fluorescence, because plastic can be autofluorescent.
Coverglass cultureware has the disadvantage of being quite costly. A low cost alternative is to culture cells on glass coverslips coated with poly-L-lysine or other extracellular matrix components. The coverslips are then mounted on standard microscope slides prior to imaging.
---
Fixation
Fixation is the chemical treatment of cells or tissues to simultaneously kill and preserve cells by immobilizing proteins and other cellular components. Different fixation methods may be optimal for specific antigens or probes.
---
Permeabilization & Blocking
---
Primary Antibodies
---
Secondary Antibodies
Direct vs. Indirect Immunofluorescence
Immunofluorescence (IF) can be performed with direct or indirect detection of the target antigen. Fluorescent antibody conjugates typically are labeled with 4-6 dye molecules. Direct IF uses a dye-conjugated antibody to fluorescently label the target antigen. With direct IF using monoclonal antibodies, only one antibody may bind to its target antigen, tagging it with 4-6 dye molecules. With indirect IF, an unlabeled primary antibody is bound to the target antigen, followed by binding of multiple fluorescent secondary antibodies to the primary antibody. Because each secondary antibody bears 4-6 dye molecules, this greatly increases the number of dyes associated with the target antigen, resulting in higher sensitivity relative to direct IF. However, direct IF offers the advantage of being able to stain a sample with multiple primary antibodies from the same host species simultaneously. Direct and indirect methods can be combined to exploit the advantages of both methods. See our Tech Tip for Combined Direct and Indirect Immunofluorescence to learn more.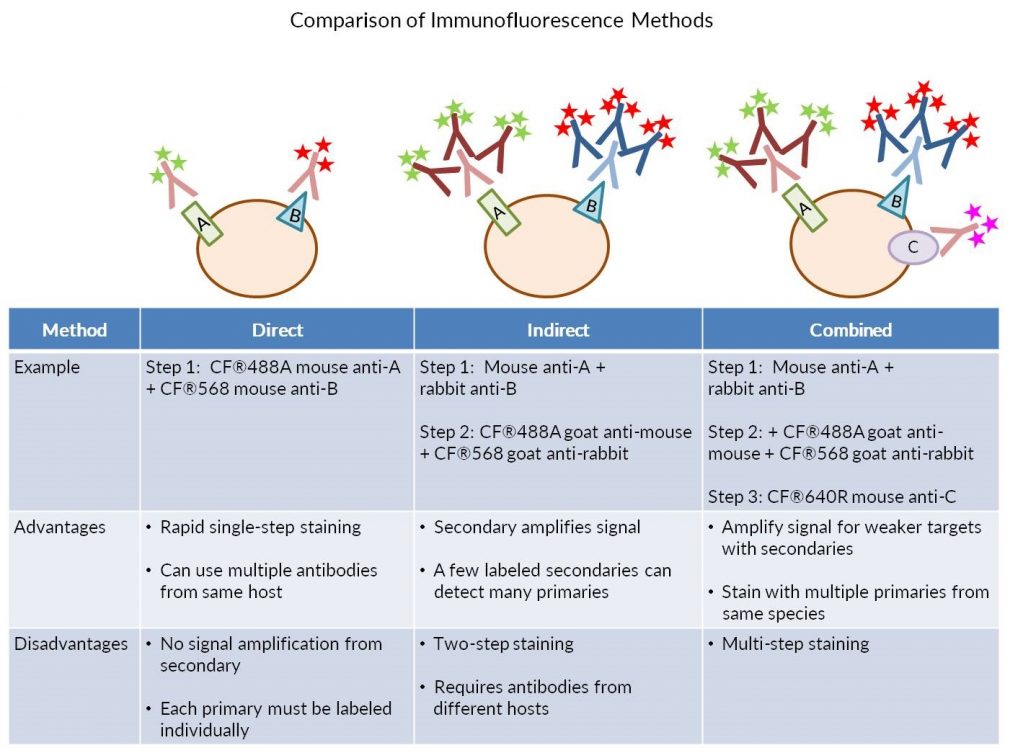 ---
Staining Tissue Sections
---
Quenching Autofluorescence
---
Signal Amplification
Tyramide signal amplification (TSA) is a powerful method for increasing the sensitivity of immunofluorescence staining. After binding to primary antibodies or to biotinylated primary antibodies, an HRP-conjugated secondary antibody or HRP-streptavidin mediates covalent coupling of fluorescent dye-tyramide to tyrosine-containing proteins in the vicinity of the reaction site. This enzymatic coupling reaction allows the target proteins to be labeled with large number of dye molecules, resulting in much stronger signal compared to using dye-labeled antibodies. TSA can be combined with conventional immunofluorescence protocols or performed sequentially for multi-color detection, see our Tech Tip for multicolor tyramide staining to learn more. Biotium offers CF® Dye Tyramide Amplification Kits as well as stand-alone tyramide reagents.
---
Antifade Mounting Medium
---
Sealing Coverslips
---
Fluorescence Cross-Talk & Bleed-Through
Fluorescence from one dye can bleed into adjacent channels during fluorescence imaging, especially if the signal is very bright, resulting in artifacts in fluorescence co-localization experiments. In any multi-color imaging experiment, single-stain controls should be included to determine whether there is fluorescence cross-talk or bleed-through of dye fluorescence between channels (see our Troubleshooting Tips for more details).
Cross-talk can be avoided by choosing dyes with well-separated fluorescence emission for multicolor imaging. Our Fluorescence Spectra Viewer can be useful for evaluating dye separation for multicolor experiments. Probes should be titrated so the relative brightness of each dye is similar, if possible. Confocal microscopy imaging settings also can be optimized to minimize cross-talk by limiting cross-excitation during scanning, or by changing the emission cut-off for different dyes.
For DAPI bleed-through into the green channel, reduce the concentration of DAPI, or optimize confocal imaging settings to prevent cross-talk. UV excitation of DAPI and Hoechst also can cause these dyes to emit green or red fluorescence, a sometimes unexpected source of cross-talk; see our Tech Tip: Avoiding Artifacts from UV Photoconversion of DAPI and Hoechst. Using different counterstains, such as RedDot™2 Far-Red Nuclear Stain (for the Cy®5 channel), or NucSpot® 470 also can avoid this problem.
---
Troubleshooting
For common causes and solutions of low/no signal or high background/non-specific signal, see our Troubleshooting Tips for Fluorescence Staining.
---
Products for Immunofluorescence
Product
Features
Primary antibodies
Secondary antibodies
Phalloidin conjugates

Stain actin filaments in formaldehyde-fixed, permeabilized cells
Available with your choice of bright & photostable CF® dyes and other labels

WGA conjugates

Glycoprotein probe useful for cell surface staining (note: staining varies between cells and tissues)
Available with your choice of bright & photostable CF® dyes and other labels

DAPI in H2O, 10 mg/mL

Widely used no-wash, blue fluorescent nuclear counterstain
Also available in EverBrite™ Mounting Media (see below)

RedDot™2 Far-Red Nuclear Stain

Nuclear counterstain for the Cy®5 channel
Nuclear-specific in fixed cells/tissues

NucSpot® 470, 1000X in DMSO

Green nuclear counterstain for the FITC channel
Nuclear-specific in fixed cells/tissues

4% Paraformaldehyde in PBS, Ready-to-Use Fixative

Ready-to-Use, EM-grade, methanol-free fixation buffer
No glass ampoules to break, store in original bottle

TrueBlack® IF Background Suppressor System (Permeabilizing)

Suppress background from multiple sources
More efficient than Image-iT® FX; block & permeabilize in just 10 minutes
Complete system for blocking, permeabilizing, and antibody dilution
For staining of cells or tissue sections

TrueBlack® Lipofuscin Autofluorescence Quencher

Eliminates lipofuscin autofluorescence with less background than Sudan Black B
Reduces background from red blood cells and extracellular matrix
Can be used before or after IF staining

EverBrite™ Mounting Medium

Excellent protection from photobleaching for a wide range of dyes, including cyanine (Cy® dyes)
Available in wet-set or hardset formulations
Drop-n-Stain EverBrite™ packaged in dropper bottles for easy dispensing
With or without DAPI

EverBrite™ Hardset Mounting Medium
Drop-n-Stain EverBrite™ Mounting Medium
CoverGrip™ Coverslip Sealant

Superior alternative to nail polish for coverslip sealing
Won't mix with aqueous mounting media

10X Phosphate Buffered Saline (PBS)

Concentrated PBS Buffer
RNase-, DNase-, protease-free (non-sterile)
4L, supplied in a Cubitainer®

Permeabilization Buffer

Ready-to-use permeabilization buffer for intracellular staining

Permeabilization and Blocking Buffer (5X)

Concentrated buffer for one step permabilization and blocking for intracellular immunofluorescence
Goat serum-based blocking buffer

AntiFix™ Universal Antigen Retrieval Buffer, 10X

Excellent antigen retrieval for a wide variety of targets at neutral pH
Simplifies HIER optimization
Validated with fluorescence staining using tyramide amplification
Non-toxic and non-flammable

Fish Gelatin Powder

Gelatin from cold water fish skin for blocking for immunofluorescence or western
Compatible with goat and sheep primaries, unlike BSA, milk, or goat serum

Bovine Serum Albumin, 30% Solution

Commonly used blocking agent and antibody or protein stabilizer
30% solution in water
Made from IgG-free, protease-free fraction V BSA

Bovine Serum Albumin Fraction V

Commonly used blocking agent and antibody or protein stabilizer
IgG-free, protease-free fraction V BSA

SuperHT Pap Pens

Create hydrophobic barriers around sections on glass slides
Insoluble in aqueous buffers, detergents, alcohol and acetone
Barriers are stable at temperatures up to 120°C.
Choose 4 mm tip (regular) or 2.5 mm tip (mini)
---