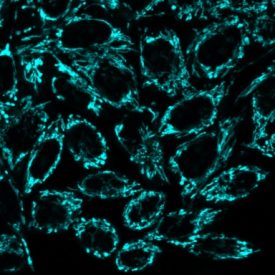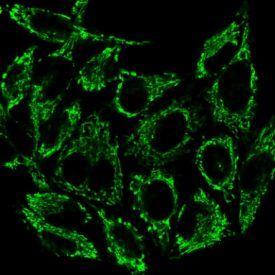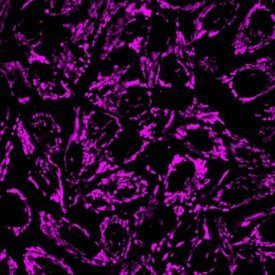 MitoView™ Dyes
In metabolically active cells, mitochondria produce a membrane potential by maintaining a proton gradient across the inner and outer membranes. Loss of mitochondrial membrane potential is a hallmark for apoptosis. Biotium's MitoView™ mitochondrial dyes are available in a variety of colors. MitoView™ Blue and MitoView™ 633 dyes are membrane potential-sensitive stains for mitochondria in mammalian cells and yeast. These dyes stain mitochondria with intact membrane potential in live cells. Staining is lost when mitochondria become depolarized during cell death, allowing monitoring of cell viability. We also offer MitoView™ Green, a membrane-potential independent mitochondrial dye that can be used to image mitochondria following mitochondrial depolarization, or after fixation.
JC-1 and Other Classic Mitochondrial Membrane Potential Dyes
In healthy cells, JC-1 dye aggregates in mitochondria as a function of membrane potential, resulting in red fluorescence with brightness proportional to the membrane potential. Conversely, in apoptotic and necrotic cells with diminished mitochondrial membrane potential, JC-1 exists in a green fluorescent monomeric form in the cytosol, allowing of cell viability to be assessed by measuring the ratio of red to green fluorescence by flow cytometry or fluorescence microplate reader.
Red fluorescent TMRM and TMRE are the preferred dyes for quantitative membrane potential measurements. We also offer a number of other classic mitochondrial dyes. See the Cellular Stains Brochure for more information.
Learn more about our full selection of Cellular Stains