Brightest deep-red conjugates
Great for multi-color imaging
CF®594 is a deep-red fluorescent dye spectrally similar to Alexa Fluor® 594 and Texas Red® dye (Figure 1). It is significantly brighter than Alexa Fluor® 594 when conjugated to proteins, due to its high quantum yield and exceptional water solubility (Figure 2). CF®594 also is very photostable (Figure 3), making it ideal for demanding applications such as confocal microscopy. Its emission is well-separated from green dyes like CF®488A for multicolor imaging. See CF®594 product lines below.
CF®594 Technical Summary
Abs/Em maxima: 593/614 nm
Extinction coefficient: 115,000
Molecular weight: ~730
Laser line: 532 or 594 nm
Direct replacement for: Alexa Fluor® 594, Texas Red®, DyLight® 594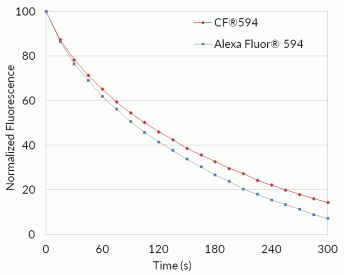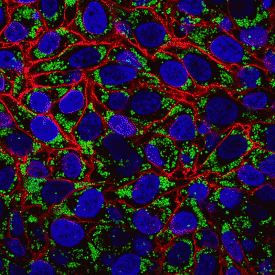 CF is a registered trademark of Biotium, Inc. Alexa Fluor, DyLight, and Texas Red are registered trademarks of Thermo Fisher Scientific.
CF®570 & CF®583 Dyes < Previous           CF® Dyes Overview           Next > CF®594ST Dye
Additional conjugates or reactive dye forms may be added on request, contact techsupport@biotium.com to inquire.
Faq
CF® Dyes
CF® initially was an abbreviation for Cyanine-based Fluorescent dyes. These were the first patented CF® dyes based on cyanine dye structures. Since then, our CF® dye patent portfolio has expanded to include four different fluorescent dye core structures that cover the fluorescence spectrum from UV to NIR.
← FAQs
The exact chemical structures of CF® dyes are currently confidential but will be fully disclosed at a later stage when pending patents become granted. In general terms, the structure of a CF® dye may be divided into two parts: a) dye core structure (i.e. the aromatic ring skeleton that defines the dye's color or absorption/emission wavelengths), and b) core structure-modifying elements. At present, CF® dyes bear the core structures of coumarin, pyrene, rhodamine or cyanine dyes. Blue fluorescent CF® dyes are based on coumarin or pyrene dye core structure, while green to near-IR CF® dyes are based on either cyanine or rhodamine dye core structures. Core structure-modifying elements refer to various chemical attachments to the core structure and are a key aspect of the CF® dye invention that makes CF® dyes superior to other commercial dyes.
← FAQs